Cinco de Mayo is an annual celebration that commemorates the Mexican Army's victory over the French Empire at the Battle of Puebla on May 5, 1862. Although not as widely celebrated in Mexico as in the United States, Cinco de Mayo has become a popular day to celebrate Mexican culture and cuisine. This year, immerse yourself in the rich culinary history of Mexico by participating in a Cinco de Mayo Cooking Workshop. Discover new flavors, techniques, and the stories behind traditional Mexican dishes that you can enjoy with friends and family.
Why Attend a Cinco de Mayo Cooking Workshop?
A Cinco de Mayo Cooking Workshop is an exciting opportunity to learn about and explore the diverse flavors and ingredients that make Mexican cuisine unique. Not only will you gain hands-on experience in creating authentic Mexican dishes, but you'll also have the opportunity to delve into the cultural and historical aspects of Mexican food. This workshop is perfect for food enthusiasts, home cooks, and anyone interested in learning more about the fascinating world of Mexican cuisine.
The Rich History of Mexican Cuisine
Mexican cuisine has a rich history, with influences from Indigenous, Spanish, and other European cultures. The fusion of these culinary traditions has resulted in a vibrant and diverse food culture that continues to evolve today.
Pre-Hispanic Influences
Before the arrival of the Spanish in the 16th century, Indigenous cultures like the Aztecs and Mayans had developed a variety of dishes that continue to be staples in Mexican cuisine today. Corn, beans, squash, tomatoes, chili peppers, and cocoa were essential ingredients in their diets, and many traditional Mexican dishes still rely on these foundations. Mole, a thick and flavorful sauce made from chili peppers, chocolate, and various spices, is an example of a dish with ancient roots that has stood the test of time.
Spanish and European Influences
With the arrival of the Spanish came new ingredients, such as pork, beef, and dairy products. They also introduced new cooking techniques and styles, which significantly impacted Mexican cuisine. One such example is the use of spices, like cinnamon, cloves, and black pepper, which added depth and complexity to traditional dishes. Over time, these ingredients and techniques became integral to Mexican cooking, resulting in a fusion of cultures that characterizes the nation's culinary landscape.
Cinco de Mayo Cooking Workshop: What to Expect
A typical Cinco de Mayo Cooking Workshop will cover a variety of dishes that showcase the diverse flavors and ingredients of Mexican cuisine. Here are some highlights of what you can expect to learn:
Classic Guacamole: Discover the secrets to making the perfect guacamole, a delicious blend of ripe avocados, tomatoes, onions, cilantro, lime juice, and spices.
Salsa: Learn how to create a variety of salsas, from the smoky and spicy chipotle to the refreshing and tangy pico de gallo.
Tamales: Master the art of making tamales, a traditional Mexican dish made from masa (corn dough) filled with meats, cheeses, or vegetables and wrapped in corn husks before being steamed.
Tacos al Pastor: Create flavorful and tender marinated pork tacos, a Mexican street food staple, served with onions, cilantro, and pineapple.
Chiles Rellenos: Prepare chiles rellenos, a dish featuring poblano peppers stuffed with cheese or meat, then battered and fried to golden perfection.
Mexican Rice: Learn to cook a flavorful and aromatic Mexican rice, seasoned with tomatoes, onions, garlic, and spices.
Margaritas: Shake up a classic margarita or experiment with unique flavors, like jalapeño or hibiscus, to create the perfect accompaniment to your Cinco de Mayo feast.
Flan: Finish your meal with a delectable Mexican dessert, flan, a rich and creamy custard topped with a caramel sauce.
Each workshop may vary in terms of dishes covered and the depth of historical and cultural background provided. However, most workshops will include hands-on cooking instruction, allowing you to practice techniques and gain confidence in your skills.
Cinco de Mayo Chiles Rellenos Recipe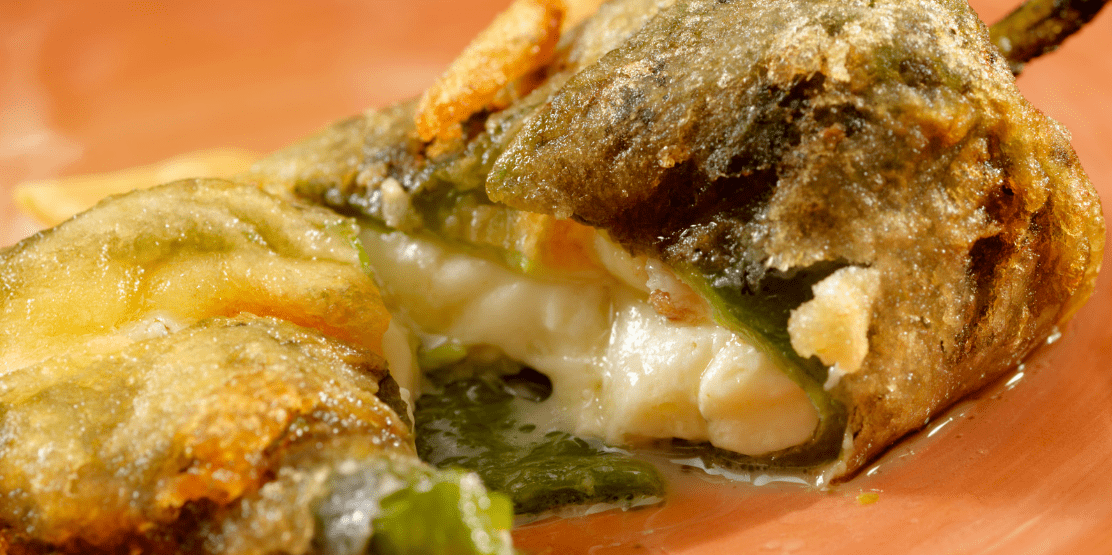 Chiles Rellenos is a delicious Mexican dish featuring poblano peppers stuffed with cheese or meat, then battered and fried to golden perfection. Here's a simple recipe to make Chiles Rellenos at home:
Ingredients:
6 large poblano peppers
2 cups Monterey Jack or Oaxaca cheese, shredded or cut into small strips
1 cup all-purpose flour
3 large eggs
1 cup vegetable oil (for frying)
Toothpicks (optional)
For the Tomato Sauce:
2 cups canned crushed tomatoes
1 small onion, finely chopped
2 cloves garlic, minced
1 tablespoon vegetable oil
Salt and pepper to taste
Instructions:
Prepare the poblano peppers: Roast the poblano peppers over an open flame or under a broiler until their skins are charred and blistered. Turn them frequently to ensure even roasting. Once they're evenly charred, place the peppers in a plastic bag or a covered bowl for 10-15 minutes to steam, which will make it easier to remove the skins.
Peel the peppers: After the peppers have steamed, gently peel off the charred skins. Be careful not to tear the peppers.
Make a small slit in each pepper: Using a sharp knife, make a small slit lengthwise in each pepper. Remove the seeds and membranes without tearing the pepper.
Stuff the peppers: Fill each pepper with the shredded cheese or cheese strips. If needed, secure the opening with toothpicks to keep the cheese from escaping during frying.
Prepare the batter: In a medium bowl, separate the egg whites from the yolks. Beat the egg whites until stiff peaks form. Gently fold the yolks into the beaten egg whites until just combined.
Coat the peppers in flour: Gently roll each stuffed pepper in flour, making sure to coat the entire surface. Shake off any excess flour.
Heat the oil: In a large frying pan, heat the vegetable oil over medium heat.
Fry the peppers: Dip each flour-coated pepper into the egg batter, ensuring an even coating. Carefully place the peppers into the hot oil and fry until golden brown on both sides. Use a spatula to flip the peppers gently. Once cooked, remove the peppers from the oil and place them on a paper towel-lined plate to drain excess oil.
Prepare the tomato sauce: In a saucepan, heat 1 tablespoon of vegetable oil over medium heat. Add the onion and garlic and cook until soft and fragrant. Add the crushed tomatoes and season with salt and pepper. Simmer the sauce for 10-15 minutes, stirring occasionally.
Serve the Chiles Rellenos: Spoon the tomato sauce onto a serving plate, then place the Chiles Rellenos on top of the sauce. Serve immediately with rice, beans, or tortillas.
Enjoy your homemade Chiles Rellenos, a traditional and flavorful Mexican dish that is perfect for special occasions or a delicious dinner.
The Benefits of Attending a Cinco de Mayo Cooking Workshop
There are several benefits to attending a Cinco de Mayo Cooking Workshop:
Expand Your Culinary Repertoire: Add new and exciting Mexican dishes to your home cooking rotation, impressing friends and family with your newfound skills.
Learn About Mexican Food History: Develop a deeper appreciation for the cultural and historical influences that have shaped Mexican cuisine over the centuries.
Connect with Fellow Food Enthusiasts: Share your passion for cooking with others who share your interests, fostering new friendships and connections.
Improve Your Cooking Skills: Receive hands-on instruction from experienced chefs or cooking instructors, honing your skills and techniques.
Support Local Businesses and Instructors: By attending a Cinco de Mayo Cooking Workshop, you are supporting local businesses, chefs, and cooking instructors who share their passion and knowledge with the community.
How to Find a Cinco de Mayo Cooking Workshop
You have found it! Checkout this Rockoly virtual cooking workshop specials with all ingredients delivered.
For Dessert
Immerse yourself in the rich culinary history and flavors of Mexico by participating in a Cinco de Mayo Cooking Workshop. Not only will you learn to create delicious and authentic Mexican dishes, but you'll also gain a deeper appreciation for the cultural influences that have shaped this vibrant cuisine. With hands-on instruction from experienced chefs and a supportive community of fellow food enthusiasts, you'll walk away with newfound skills, knowledge, and memories to cherish. Don't miss out on this unique opportunity to celebrate Cinco de Mayo through the art of cooking.