No matter what happens in the world, one thing that will always unite the human race is food.
On the most basic level, we need it to survive. Yet, it goes far deeper than that. Food is humanity's way of bonding.
Families sit together at the end of the day, sharing their experiences and catching up. We serve banquets when we celebrate at weddings, comfort each other with food at wakes, and welcome new neighbors with baked goods.
Throughout history, humans have hunted, gathered, and prepared food as a part of their daily rituals, ensuring their clans or families thrive and grow into the future.
Office culture is a microcosm of this dynamic. The team needs to be connected to prosper, and a chain is only as strong as its weakest link. An office lunch or Christmas party can be more effective than many intricate team-building affairs.
Still, companies are trying to blend the tradition of breaking bread with traditional team-building goals and a modern setting – the virtual world.
Of course, when your employees are working remotely, breaking bread together is easier said than done. But taking an online cooking class is a first-class substitute and has more benefits than you imagine!
Why Online Cooking Classes?
Every industry has had to put its thinking caps on to develop innovative ways to encourage collaboration and integrate team building. Human beings are social animals, and it is unnatural for us to interact from a distance and still maintain the same bonds.
Fortunately, the concept of online cooking classes became a reality, ultimately turning out to be the perfect solution.
Of course, there are so many benefits beyond having fun and producing good food — but if your staff get to have a good time in the kitchen and cook up a storm while developing their team, why the heck not?
Interactive Cooking Classes Online and Team Building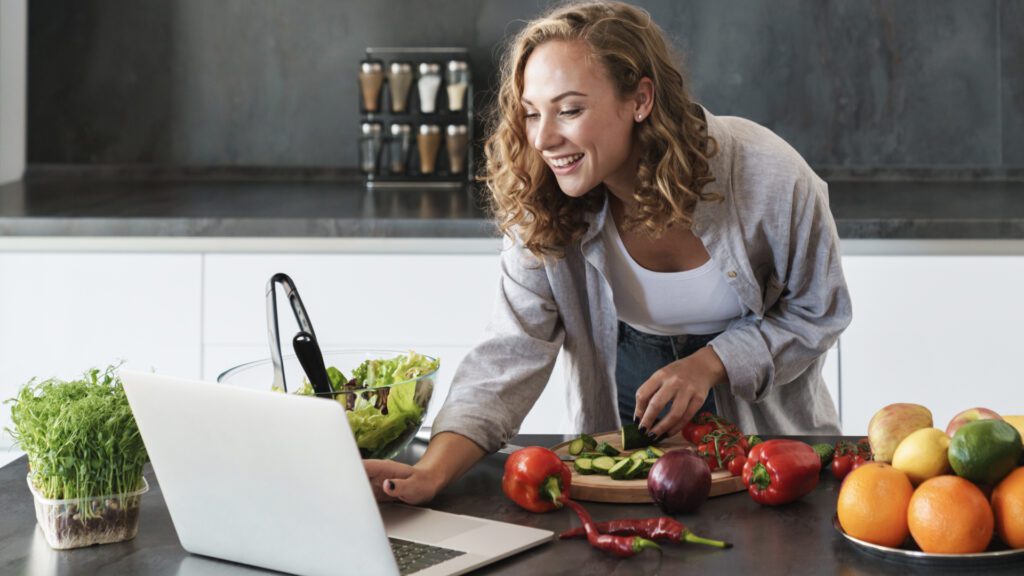 The fundamental goal of team-building is the same regardless of whether it takes place in person or online. Employers are looking for ways to get their staff to engage in ways that benefit their dynamic and, as a result, help the business. A well-oiled machine gets the best results, and team-building is the oil it needs.
When employees break the ice and get to know each other, it boosts morale and adaptability — and doing this in a setting that seems as far away from work mode as possible leaves people more open to engagement. A team that is comfortable together automatically performs better.
Teams that understand each other's strengths and weaknesses can tailor projects to ensure that the work is distributed to play off each other's best qualities. Adding a fun element to team-building also makes space for games and challenges that encourage team spirit and allow for healthy competition.
Team building gives employees opportunities to be creative and put their heads together in ways they would not necessarily need to under normal circumstances.
Veering out of their comfort zones, people often find that they are a lot more creative than they first thought, and true collaboration means you draw from each other's ideas to build even better ones instead of one person taking all the credit.
As a result, the team gets the credit instead, and when people are recognized for their contribution, they are more likely to contribute more.
When people brainstorm and problem-solve together, their combined imagination is virtually unstoppable. They spark new ideas and chains of thought in each other and can throw out the pros and cons of various suggestions, leaving no stone unturned.
Cooking Up a Skillset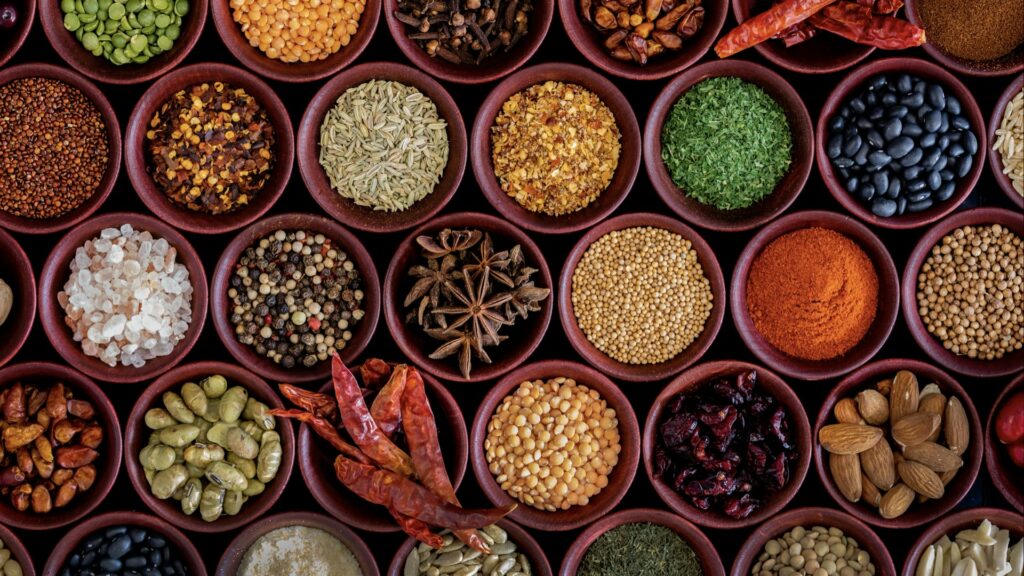 Many of us are reluctant cooks, and some love donning our amateur chef's hats. Then there are those who would love to cook but have trouble boiling water.
The best part of an online cooking class is that there is space for all of the above, leading to plenty of laughs.
At the very least, interactive cooking classes online will teach your staff new skills. These can vary from basic cooking 101 to the multitude of soft skills learned in the background.
Sometimes, all someone needs is an opportunity to get comfortable in the kitchen. And even a seasoned cook, who regularly produces meals for their family, can learn something new and add a new idea to their internal menu roster.
In addition, creating a successful meal from scratch does wonder for self-esteem, and activities such as these have been proven to reduce stress and alleviate anxiety.
When online cooking classes are combined with team-building, the practiced skills are no different from those needed in the workplace. A meal requires planning.
You need to consider what you have to work with, how much time you have available, and your desired outcome. Again, it is no different in the business environment.
Being led by a professional chef and using their knowledge as a basis for your success equates to constructive mentorship. Learning from others and being able to communicate are essential in the workplace.
Proper time management and working under pressure seem a lot less stressful in a fun, low-stakes online cooking class, but taking things in your stride will go a long way in building up resistance.
A Touch of Culture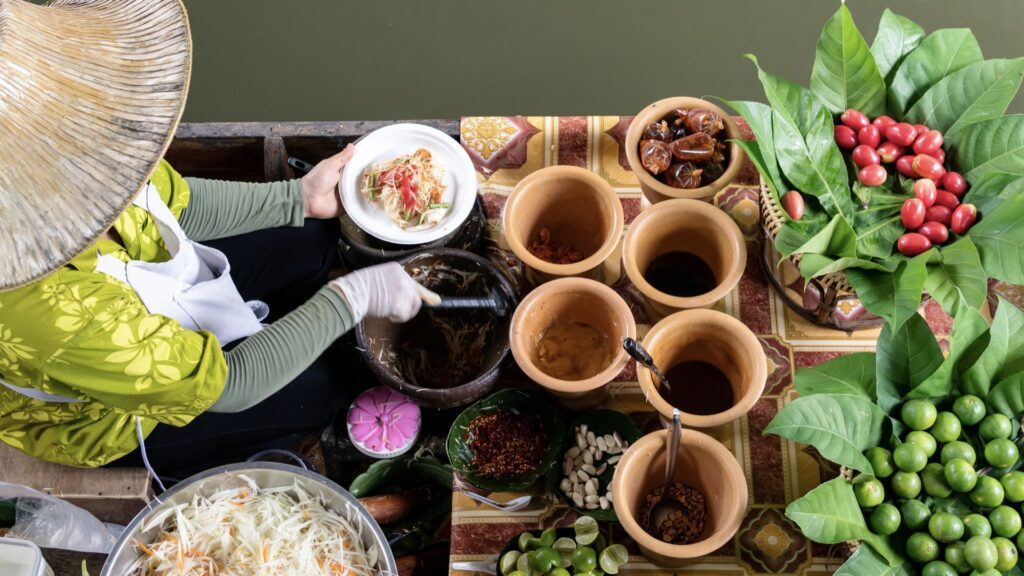 Travel is expensive – and definitely more cumbersome due to the effects of COVID-19.
But that's no reason not to take your team around the world on a culinary tour of the Mediterranean, Asia, the Middle East, or North Africa.
Many travelers choose to go to exotic locations because they love experiencing new tastes. Travel is more than just hopping onto a plane and jetting over to another country.
It is a sensory experience that can be enjoyed in several different ways – even from the comfort of your own home. Learning to prepare and then taste international cuisine is an opportunity for your team to get to know other cultures with their senses.
A virtual team-building event with Rockoly's master chefs is a cost-effective way to take your team on a trip around the world as they experience the flavors, smells, and taste combinations that "foodie" tourists fly across the globe to experience.
From pasta with a taste of Venice to wines that conjure up images of endless French vineyards, Rockoly's global taste experiences are unforgettable sensations in their own right.
Rockoly's chefs bring delectable pre-defined workshop menus to life, or you can create your own. Flavor options from around the world include Traditional Pasta Making, Authentic Mexican Street Food, Spanish Paella, or making pizza from scratch.
Whatever your taste destination of choice may be, Rockoly will customize a fun and memorable team-building event for you.
A soupçon of imagination is all it takes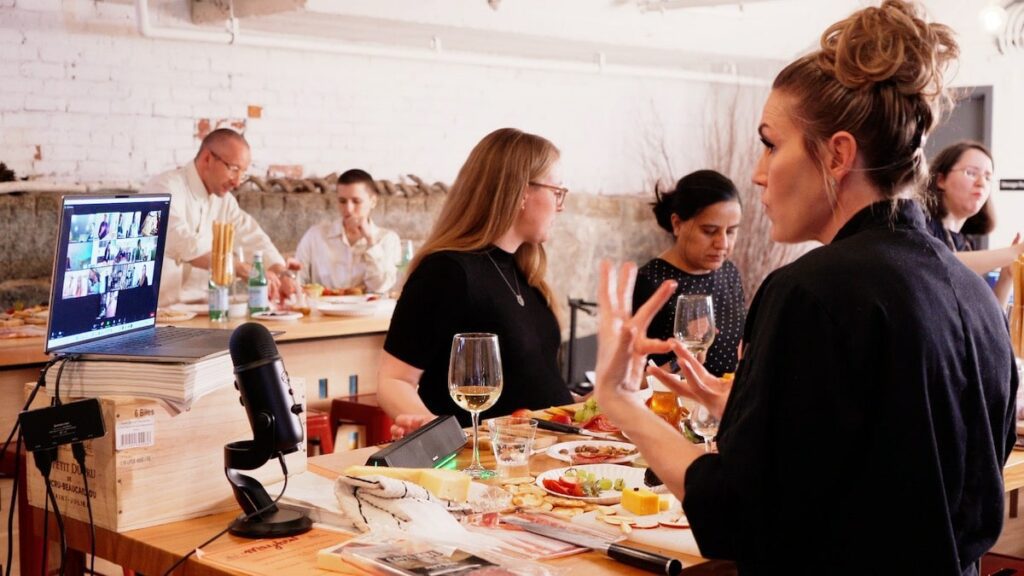 Team-building should be fun. It really is that simple. Yet so many companies get it wrong. Bonding between team members can't be forced.
The classic "trust fall" exercise is a great example of what not to do. You know, the one that consists of standing with your back to your fellow team members and falling backward, trusting that they will catch you.
Let's just say that trust can be built in far more subtle ways, with teamwork being one of the most effective ways to do it – without anyone having to catch anyone else.
With a little creativity, team-building can shift mindsets, helping your team access different parts of themselves that will inject more creativity and passion into their work.
A new team-building phenomenon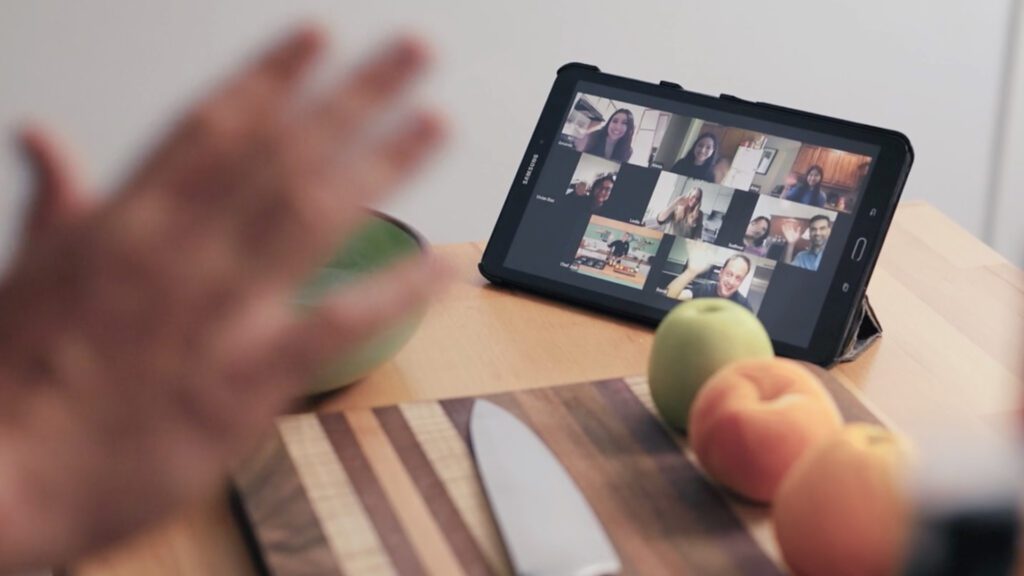 Setting up your next team-building event with Rockoly can all be done from the comfort of your own home or workspace. Rockoly's interactive cooking classes come together in three easy steps, with minimal effort from you:
Step 1 – Tell us about your team. We will match a perfect workshop and chef for you.
Step 2 – Choose from a variety of awesome workshops. Pasta Making, Mexican Street Food, and Spanish Paella are some of the favorites.
Step 3 – Get all your ingredients delivered. Reconnect & have fun!
Using video conferencing platforms, a professional chef will lead your team-building workshop, teaching everyone in the team to create exciting meals together in interactive cooking classes online.
Rockoly events encourage connection, boost morale, and foster socialization. They also include fun group games and entertainment for your team during the workshop.
Rockoly Delivers the Ingredients
Your team members don't need to leave the comfort of their homes, no matter where they are in the world. All workshop ingredients are delivered right to the doorstep of every participant.
The Statistics Don't Lie
Surveys show that feelings of employee inclusion increase productivity by up to 21% (Gallup). Statistics also show that socializing between team members improves communication patterns by more than 50% (Harvard Business Review) and that team performance is best among teams that communicate in informal situations, away from the usual formal office structure (Massachusetts Institute of Technology).
In an age where human contact has been limited for so long, offering your team a chance to reconnect in an informal setting will do more good than you
Gone are the days of predictable, "one size fits all" team-building events. Interactive cooking classes online have endless potential to bring your team together.
Mexican Street Tacos with Steak, Guacamole and Corn Salsa
Cavatelli with Walnut Pesto
Italian Pizza with Mushrooms and Cheese
You can also explore the Year Round Menus and please checkout a rotating selection of Monthly cooking team building specials.
Street Tacos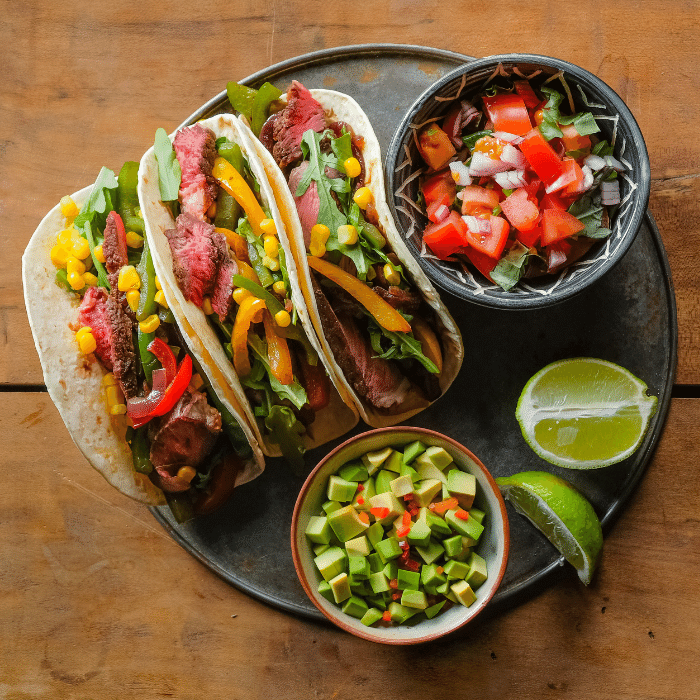 On the menu:
Mexican Street Tacos with Steak, Guacamole and Corn Salsa
Workshop Duration:
60 min
Dietary info:
Vegetarian option, Gluten-Free, Vegan option
Make your Mexican Street Tacos even more authentic by cooking warm tortillas from scratch with this flavorful add-on. (+30 min)
Make any dish a party with a cocktail add-on. Enjoy a margarita, bloody mary, mimosa, and more! (+30 min)
Create authentic Mexican Street Tacos with tender steak, fresh guacamole, and zesty corn salsa. Vegetarians and vegans will love their garlic mushrooms. Each bite is so flavorful, one taco isn't enough. Make it a party and add a Margarita or Mojito.
Group Size:
| | | | |
| --- | --- | --- | --- |
| < 5 | 5 – 30 | 31 – 50 | 50+ |
| $695 | $139/pp | $129/pp | $119/pp |
Virtual event rate includes personal chef, dedicated event planner, ingredient delivery, taxes and all service fees.
Cavatelli with Pesto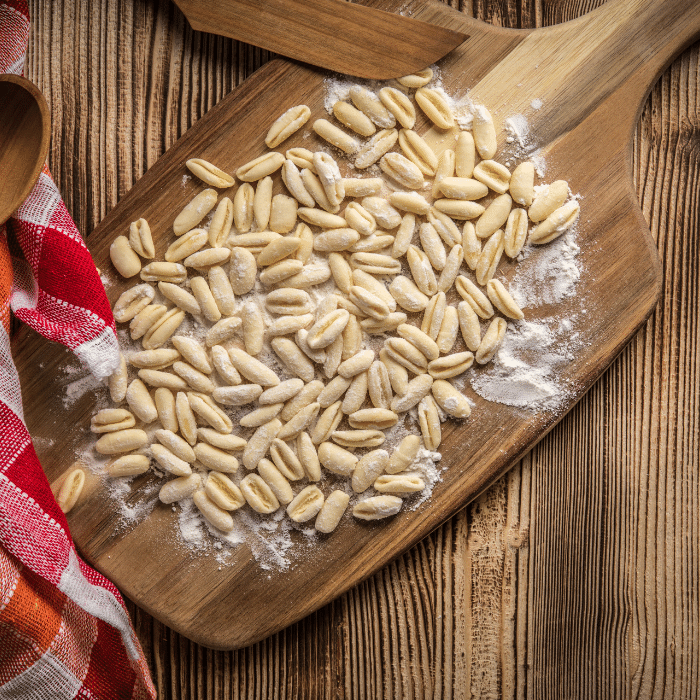 On the menu:
Cavatelli with Walnut Pesto
Workshop Duration:
60 min
Dietary info:
Vegetarian, Gluten-Free option, Vegan option
Complete the occasion with a wine pairing add-on and explore Italian vineyards to complement any dish.
Learn how to make traditional Italian Pasta from scratch: Cavatelli with fresh greens and walnut pesto. Complete the occasion with a wine pairing and explore Italian vineyards to complement the palate.
Group Size:
| | | | |
| --- | --- | --- | --- |
| < 5 | 5 – 30 | 31 – 50 | 50+ |
| $645 | $129/pp | $119/pp | $109/pp |
Virtual event rate includes personal chef, dedicated event planner, ingredient delivery, taxes and all service fees.
Quick Italian Pizza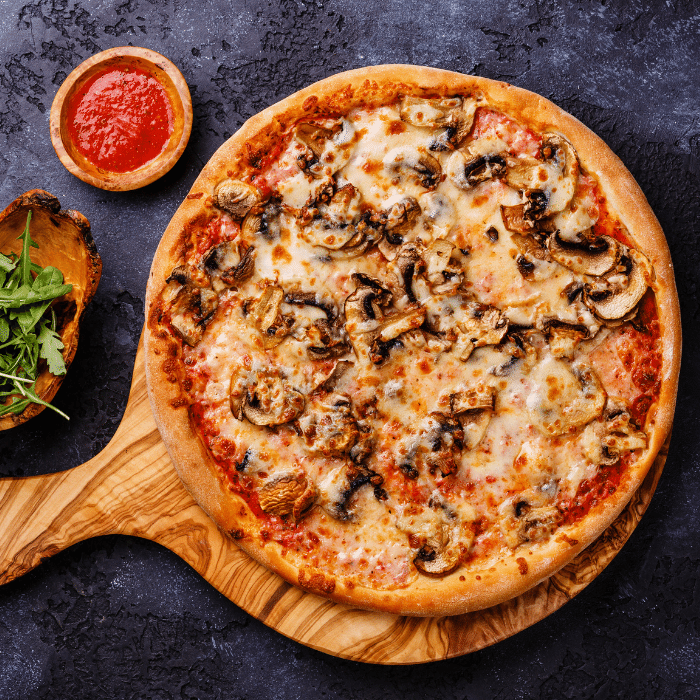 On the menu:
Italian Pizza with Mushrooms and Cheese
Workshop Duration:
60 min
Dietary info:
Vegetarian, Gluten-Free option, Vegan option
Complete the occasion with a wine pairing add-on and explore Italian vineyards to complement any dish.
Get the perfect pizza crust with the pizza kit which includes a pizza stone, peel, and cutter.
Make a real Italian Pizza in the comfort of your own kitchen. Top it with mushrooms and cheese – or really anything you find in your fridge and pantry. There are no limits when it comes to pizza. Complete the occasion with a wine pairing to feel like you are on vacation in Italy.
Group Size:
| | | | |
| --- | --- | --- | --- |
| < 5 | 5 – 30 | 31 – 50 | 50+ |
| $645 | $129/pp | $119/pp | $109/pp |
Virtual event rate includes personal chef, dedicated event planner, ingredient delivery, taxes and all service fees.