Generating corporate event ideas in the age of distance working is a new challenge for managers and executives. While great employees can be hard to find in today's current business climate, keeping the ones you have can be even more difficult. Corporate events allow you to build your team in a manner that doesn't seem like work — because these activities are fun!
Since the onset of COVID-19 a few years ago, getting all team members together at the exact same location is an absolute bear, if not darn-near impossible. Fortunately, many entrepreneurs have filled this gap with corporate events and team-building exercises that team members can perform in a virtual setting from their homes.
If you need new corporate event ideas to help you build the best team you can, keep reading — we've got plenty of things to get you on the right track.
Virtual Morning Coffee Break
Don't let the absence of a physical office interfere with a morning coffee break with your group. Many teams have morning meetings to start the day or the week. Like those, a virtual morning coffee break is a great way to collaborate and interact with your team which makes the chaos of remote work seem almost normal.
Time spent on a virtual morning coffee break will allow everyone to have a small window into each other's lives while planning for the week ahead. Once you learn to set aside time for virtual work, setting aside time for virtual celebrations becomes more accessible as the virtual environment becomes a more comfortable situation for everyone.
Working at home has its pros and cons, as do most things. However, virtual celebrations let us keep traditions that we enjoyed while in the same building. For example, starting a virtual morning coffee break can lead to workshops that are no longer dry-as-toast as the team is accustomed to them.
Virtual Ice Breaking Events
Like an online morning coffee session or an afternoon break, a virtual ice-breaking event allows team members to get to know each other. Absent a physical office where we all meet daily, virtual spaces can make building relationships more challenging.
However, even without the water cooler and break room, chitchat with newer team members and building deeper relationships with seasoned members is totally doable in a virtual environment.
Interactive games are a great way to break the ice with new team members and old alike. Some of the most popular games are things like trivia, two truths, and a lie, SpyFall, and other simple party games are excellent ways to get everyone to loosen up and engage.
Designate a time to have some fun — and not just with your team, but with other teams too!
Create A Meal With A Professional Chef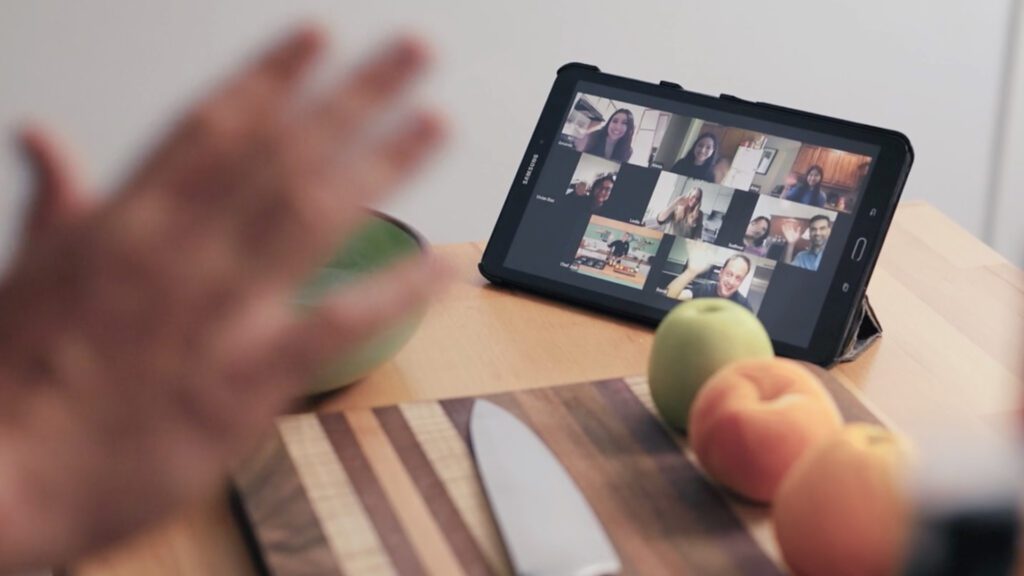 Before the work-from-home era, many co-workers and teams would engage in a night out on the town, sharing meals together at a restaurant or corporate function. But now, everyone's spread out — so, how do you have lunch or dinner together as you did before you moved from your office to your spare bedroom?
With online team-building cooking events from Rockoly, you can virtually celebrate your successes, holidays, and special events by cooking a meal together with a classically-trained chef. The camaraderie of a group in the kitchen is always a treat that's fun and engaging. Also, being able to share the same meal while being separated by hundreds or thousands of miles is pretty cool in and of itself!
Rockoly makes it easy too, sending the ingredients for a meal and an accompanying wine to each team member's doorstep for this remote activity. You then pick a time, and everyone can cook a meal together alongside a chef. Then everyone can sit down together and enjoy a fine meal while socializing or talking business!
Charitable Events
Charity events are often a core part of a company's presence in a community. However, due to more of us working from home and the onset of Covid 19, the way charities raise money has changed.
Fortunately, as with other companies growing from these circumstances, charitable giving can still be a part of community involvement. Everbrite works with companies to continue giving charitably with their apps.
If your teams participate in charitable giving, offer prizes and recognition to those who earn the most and put the most effort toward the project. A little competition never hurts, even when raising money for charitable causes.
Virtual Trivia Pub Crawl
Another great team builder that is fun is a virtual trivia pub crawl. With the help of Zoom, House party, or one of many other trivia applications, you and your associates can match wits. Add a few of your favorite appetizers and beverage of choice, and the game is on.
With a pub crawl, you have the choice of developing your own set of questions or using someone else's. A pub crawl will be a memorable event and you can get help planning a virtual trivia pub crawl from those who have done so successfully.
Typing Speed Contest
Being low-budget and tons of fun, a typing speed contest is a great way to create a competitive spirit around an ordinary, daily task. So make it a game and see how your team stacks up with some friendly competition, while simultaneously honing everyone's typing skills.
With websites like typingtest.com and other speed-typing apps, you and your team can have a few minutes of inexpensive fun when a break is needed.
If you want to use this contest as a skill builder, carry it on over a few weeks or months and offer prizes to those who show the most improvement.
Solve A Virtual Jewel Heist
While Virtual Escape Room: Jewel Heist is not a free team builder game, it's a popular one developed to work with a wide range of team sizes — from as few as four employees to over 1000. Everyone is divided into teams that are between four and eight players.
The object of Virtual Escape Room: Jewel Heist is to work with your team members to find the hidden stolen gems. A bit like Clue, the average time spent on each game is around an hour or an hour and a half, and the benefits for your employees are numerous. The gameplay encourages each team to solve a problem while collaborating with others.
Although there is a cost involved for each team member who joins, the benefits can far outweigh them. If you add this team-builder to your roster, you and your employees will benefit sooner rather than later.
Whose Office Is It Anyway?
This is an excellent activity for big groups, especially if you'd like to encourage your team to get to know each other better. There's no limit to the number of participants who can play. It's easy, fun, and free to set up. When your team works remotely, they don't always get to experience their colleagues' quirks, likes, and uniqueness. This game helps them find out more about each other.
Start by having each team member share a photo of their 'office' and upload it to a shared cloud platform. Every office space should be captured in its everyday state to represent the team member whose space it is accurately (no last-minute tidy-ups or coffee cup collections). Once the pictures have been shared, team members guess or vote on whose office is whose. The activity can all be done in one go or stretched out to feature one office per week or each day.
Spreadsheet Pixel Art
Google Sheets are generally used to crunch numbers or organize things into tables. This activity puts a different, more creative spin on this program by turning it into a canvas. It's an especially satisfying option for anyone who is secretly excited when they see a nicely ordered spreadsheet or graph.
Put a competitive spin on the creations and host a vote at the end of the game to see whose artwork comes out on top. It's pretty simple to play. Players use a code to replace numbers with color. This digital 'paint by numbers can be as easy or complicated as you like, and free templates can be sourced here: Spreadsheet Pixel Art.
"Can You Hear Me Now?"
Think Pictionary with a twist. This is a cheap, fun activity that is great for developing communication skills and getting to know each other. A random image generator will supply the topic. One member is the speaker, and the rest of the team is armed with a drawing pad.
The speaker describes how to draw the random object they have secretly been given without giving away the actual name of the object. For example, if the object is the wheel of a car, the speaker can start by saying, 'Draw a large circle with a circle half its size directly on top.'
The most entertaining part is sharing the drawings that come out of the exercise, as they can be way off the mark and pretty funny. Virtual team-building ideas that lead to a lot of laughs are usually the most enjoyable and are great for bonding outside the office.
Virtual Clue Murder Mystery
This is a variation of the old classic board game, 'Clue,' which also became a movie with Tim Curry of 'Rocky Horror Picture Show fame (random trivia there).
Every participant becomes a sleuth for the night to solve a murder. Team members are given a series of clues and case files used to determine the murder weapon, motive, and culprit through a process of elimination. Analytical thinking, effective communication, and collaboration are the key to winning here. And of course, a little teamwork couldn't hurt.
Flight of the Navigator
If there are any Generation-X team members or fans of the 80s in your company, this one is a big hit. 'Flight of the Navigator' is a cult classic movie released in 1986. The premise of the game is simple. Participants watch the movie, looking for 'so 80s!' fashion, paraphernalia, and products.
When they spot crazy 80s hair, fluorescent bracelets, or anything else that screams 80s, they take a drink (tea or soda is fine if you don't want to make the challenge a boozy one) or keep a record that they can compare at the end of the film.
You can take your pick of 80s movies to do this with. 'Back to the Future as it features both 80s and 50s fashion.
War of the Wizards
This unique and engaging activity is a live, 90-minute round-robin game with a series of activities including puzzles, world-building, and escape rooms.
It's all built around a fantasy story that your team can escape into. Think Lord of the Rings, Dungeons and Dragons, Stranger Things, and other fantasy realms that lead us into escapism.
You and your team transform into an army fighting on the side of wizards who have been battling it out for centuries. As you go, you collect points that accumulate towards resolving the war peacefully. This game is unique, out of the box, and a blast to play, and you don't need to be an avid gamer to have fun.
Learn more on War of the Wizards.
Surprise Virtual Happy Hour
Who doesn't enjoy a good Happy Hour? Surprise Virtual Happy Hour is one of Rockoly's classic virtual team-building ideas and it's an interactive team-building option that can boost morale and encourage connection.
A trained mixologist takes the reins and guides your team to create a series of traditional and originally created cocktails while teaching them a thing or two about the art of Mixology.
Mixology is the art of mixing the perfect combination of spirits and flavors, creating mixed drinks to suit every taste.
DIY Craft Challenge
Creativity is an outlet that nurtures peace of mind and relaxation. Virtual team-building ideas that get employees out of the daily grind and allow them to be creative are always great choices.
This quick, fun game is all about creativity. Each team member constructs a work of art or a functional invention using materials lying around the house. Here, they'll have to really put their thinking caps on because they'll need to create something that makes sense to other team members.
Random objects like egg boxes, tongue compressors, kitchen utensils, or anything else they have around the house become the 'clay' that they mold their creations from. You can make this a little more challenging by specifying that what they create must serve a specific purpose.
Virtual Trivia
Trivia is easy to set up, fun to engage in, and brings out your team's competitive streak. Most people enjoy a good pub quiz or trivia night and there are many virtual, hosted trivia games available for free online. Most are divided into quiz categories but you can also make the quiz work-related or about one specific topic.
Throw in a few work-related brainteasers, anagrams, and memory games, and you'll see the really competitive team members bringing it on!
Virtual Dance Party
This is easy to play, highly engaging, and a chance for every team member to let their hair down.
A virtual dance party gets everyone out of their seats and gets a little heart-healthy cardio in. There are no real dance skills required. It's just about having a little fun, breaking the silence, or even shaking things up during a long meeting to bring up the energy levels.
All you need to do in your shared virtual workspace is randomly play a song throughout the course of the day or meeting, at which point, all staff members need to stop what they're doing, get up, and dance.
Some excellent dance party favorites are:
'Stayin' Alive' by the Bee Gees
'Uptown Funk' by Mark Ronson ft. Bruno Mars
'Yeah' by Usher
'Groove is in the heart by Dee-Lite
'Hey Ya!' by Outkast
'SexyBack' by Justin Timberlake
'Footloose' by Kenny Loggins
Here is a virtual dance party playlist on Spotify for a little inspiration.
Virtual Comedy Show
We all know the old cliché about laughter and medicine. It's scientifically proven that laughter is physically good for us. It releases feel-good hormones like endorphins, which boost energy and encourage smiles all around.
Have each team member create their own stand-up or improv show and hold a vote at the end of the activity to see who's the funniest.
Check out a few virtual comedy clubs online for hosted comedy shows to keep your team in stitches.
Virtual Wine Tasting
Wine isn't just for the educated palate. Rockoly hosts online wine tasting workshops for everyone, regardless of whether they know about wine or not. Each workshop is run by an expert sommelier that will talk your team through the tastes of Spain or Italy's finest wines.
As you savor the delicious, smooth flavors, you'll learn a little about winemaking and the regions that the wines are from. You can even add in a charcuterie board and enjoy a cheese and wine event.
Virtual City Tour
You may not be able to get the team off to an exotic location in the flesh, but COVID-19 saw a major boom in virtual travel options, which are still out there to enjoy. And most of them are free. You can even take this concept one step further, though, by having someone who lives in your destination of choice take your team on a live guided tour.
Your virtual tour guide, armed with a mobile camera, shares a live stream of sights and sounds from an exotic city or location. They can swing by museums, art galleries, or whatever suits the group location, immersing the team in a travel experience they may never have the opportunity to experience in the real world.
Turn Corporate Event Ideas Into Action
Building the morale of your team is more critical now than ever. Working from home can be isolating for those used to being in the bustle of a big office and enjoying it. For natural introverts, solace has been welcome, but interaction with teammates is still necessary.
However, to keep your business on an even keel, you need to appeal to both personalities. Therefore, planning and participating in virtual and onsite events geared toward employee satisfaction is a good investment. If it costs you only time or the price of a meal kit with accompanying wine, it will be money well spent.
When going through online corporate event ideas, be sure to collaborate with your group on time and cost. Is the price of the event in your budget? If it's not, then plan for it now so that it can be. Every business sets aside a budget for staff development. Use it wisely, as it will help your business grow — for internal growth always manifests outwardly in time.
Additionally, it will also help you keep the best employees you can by letting them know you appreciate them and are willing to invest in their well-being and personal development.
If you're interested in Rockoly's virtual team-building cooking workshops, then check out the workshop menus or get more information here!