Paella, a traditional Spanish dish originating from the Valencian region, is renowned for its vibrant colors, rich flavors, and diverse ingredients. With its origins dating back to the 18th century, paella has become one of Spain's most iconic dishes and a symbol of its gastronomic heritage. Paella making classes provide an opportunity for food enthusiasts, amateur cooks, and travelers alike to learn the art of crafting this delicious and versatile dish. In this article, we will explore the benefits of attending a paella making class, the history behind this mouthwatering dish, and what you can expect during a hands-on paella cooking experience.
Why Attend a Paella Making Class?
There are numerous reasons to attend a paella making class:
Expand your culinary repertoire: Learn how to create an authentic Spanish paella, impressing your friends and family with your new culinary skills.
Discover the history and culture of paella: Gain a deeper understanding and appreciation of the origins, regional variations, and cultural significance of this iconic Spanish dish.
Enhance your cooking skills: Master new techniques and hone your cooking abilities under the guidance of experienced chefs or cooking instructors.
Connect with fellow food enthusiasts: Share your passion for food and cooking with others who have similar interests, building friendships and connections.
Experience Spanish gastronomy: Immerse yourself in the flavors and ingredients that make Spanish cuisine unique and delicious.
The History and Significance of Paella
Paella has a rich history that reflects the diverse cultural influences and agricultural practices of the Valencian region. Its name is derived from the Old French word 'paelle,' which refers to the wide, shallow pan used to cook the dish. Paella is traditionally cooked over an open flame, allowing for the even distribution of heat and the formation of the dish's characteristic crust.
The dish's origins can be traced back to the Moors, who introduced rice cultivation to Spain in the 8th century. Over time, paella evolved into a versatile dish that incorporated locally available ingredients, such as rabbit, chicken, snails, and a variety of vegetables. Today, there are several regional variations of paella, including seafood paella and mixed paella, which combines both seafood and meat.
Paella Making Class: What to Expect
During a paella making class, you can expect to learn about the various ingredients, techniques, and traditions associated with this beloved Spanish dish. Here are some key components of a typical paella making class:
Introduction to ingredients: Learn about the essential ingredients used in paella, such as saffron, Bomba rice, olive oil, and paprika. Discover how the use of fresh, high-quality ingredients can significantly impact the dish's flavor and authenticity.
Regional variations: Explore the different regional variations of paella, understanding how local ingredients and traditions have shaped the dish's evolution.
Techniques and equipment: Familiarize yourself with the traditional paella pan and learn essential techniques, such as creating the perfect sofrito (a base of onions, garlic, and tomatoes), adding the rice and stock, and achieving the desired crust.
Hands-on cooking experience: Under the guidance of an experienced chef or instructor, you will have the opportunity to prepare your own paella, practicing the techniques and skills you have learned throughout the class.
Enjoying your creation: Once your paella is cooked to perfection, you will have the chance to savor your culinary masterpiece, sharing the experience with your fellow participants.
How to Find a Paella Making Class Near You
Rockoly is renowned for offering unique, engaging, and immersive culinary experiences, and our paella making class with all ingredients delivered part of the year round menu is no exception. At Rockoly, you will have the opportunity to learn the art of crafting an authentic Spanish paella under the guidance of experienced and passionate chefs.
Traditional Paella Making Class Recipe
This traditional Spanish paella making class recipe features a mix of seafood, meat, and vegetables, all cooked together in a savory saffron-infused rice. Follow these instructions to create a delicious and authentic paella:
Ingredients:
2 cups Bomba or Arborio rice
4 cups chicken or fish broth
1 pinch saffron threads
1/2 cup white wine
1/4 cup extra virgin olive oil
1 small onion, finely chopped
1 red bell pepper, sliced
1 green bell pepper, sliced
2 cloves garlic, minced
1 large ripe tomato, grated
1/2 teaspoon smoked paprika
1/2 teaspoon sweet paprika
1/2 teaspoon ground turmeric (optional)
1/2 pound boneless chicken thighs, cut into bite-sized pieces
1/2 pound rabbit or pork, cut into bite-sized pieces (optional)
1/2 pound large shrimp, peeled and deveined
1/2 pound mussels or clams, scrubbed and debearded
1/2 pound squid, cleaned and cut into rings
1/2 cup frozen peas, thawed
1/2 cup artichoke hearts, quartered
1/4 cup chopped fresh parsley
1 lemon, cut into wedges
Paella Making Class Instructions:
Prepare the broth: In a saucepan, heat the chicken or fish broth with the saffron threads and white wine over low heat. Keep warm while you prepare the paella.
Cook the meat: In a large paella pan or wide, shallow skillet, heat the olive oil over medium heat. Add the chicken and rabbit or pork (if using) to the pan and cook until browned on all sides, about 5-7 minutes. Remove the meat from the pan and set aside.
Sauté the vegetables: In the same pan, add the onion, red bell pepper, and green bell pepper. Cook until the vegetables are softened, about 5 minutes. Add the garlic and cook for an additional minute.
Add the tomato and spices: Stir in the grated tomato, smoked paprika, sweet paprika, and turmeric (if using), cooking for another 2-3 minutes.
Add the rice: Add the rice to the pan, stirring to ensure that it is well coated with the tomato and spice mixture.
Add the broth: Pour the warmed saffron-infused broth into the pan, stirring gently to combine all the ingredients. Bring the mixture to a boil, then reduce the heat to low and simmer for 10 minutes without stirring.
Add the seafood: Arrange the shrimp, mussels or clams, and squid on top of the rice, pressing them gently into the mixture.
Cook the paella: Continue to cook the paella over low heat for another 10-15 minutes, or until the rice is cooked, and the seafood is opaque and cooked through. Do not stir the paella during this time, as this will help to develop the characteristic crust on the bottom of the pan.
Add the peas and artichoke hearts: Scatter the peas and artichoke hearts over the top of the paella during the last 5 minutes of cooking.
Let the paella rest: Remove the paella from the heat and cover with a clean kitchen towel or aluminum foil. Allow the paella to rest for 5-10 minutes before serving.
Serve the paella: Garnish the paella with chopped fresh parsley and lemon wedges. Serve directly from the paella pan, allowing your guests to enjoy the delicious combination of flavors and textures that make this traditional Spanish dish so special.
Tips from the Perfect Paella making class:
Use the right rice: For an authentic paella, it's essential to use Bomba or Arborio rice, which are short-grain varieties that absorb liquid well and maintain their shape during cooking. This ensures a creamy texture without becoming mushy.
Don't stir: Resist the temptation to stir the paella while it's cooking. This allows the rice to develop a crust (known as "socarrat") on the bottom of the pan, which is considered a delicacy in Spanish cuisine.
Cook over an even heat: If possible, cook your paella over an even heat source to ensure that the rice cooks evenly. Traditional paella pans are designed for this purpose, but a wide, shallow skillet can also work if you don't have a paella pan.
Customize your ingredients: One of the beautiful things about paella is its versatility. Feel free to customize the ingredients to suit your preferences or what you have on hand. You can experiment with different types of meat, seafood, or vegetables to create your own unique paella.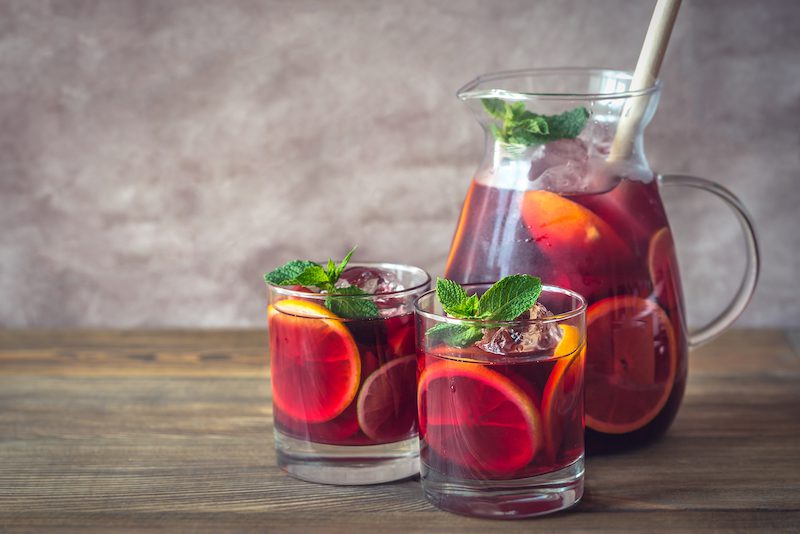 Every Paella Making Class is really best served with Sangria
Sangria is a popular Spanish drink that combines wine, fresh fruit, and a sweetener. It's perfect for parties and can be easily customized to suit your taste preferences. Here's a classic red wine sangria recipe that serves 8:
Ingredients:
1 bottle (750 ml) red wine (preferably Spanish, such as Rioja, Tempranillo, or Garnacha)
1/4 cup brandy
1/4 cup orange liqueur (such as Triple Sec or Cointreau)
1/4 cup fresh orange juice
1/4 cup simple syrup (or adjust to taste)
1 orange, thinly sliced
1 lemon, thinly sliced
1 lime, thinly sliced
1 apple, cored and chopped into small pieces
1/2 cup fresh strawberries, hulled and sliced
1/2 cup fresh blueberries
1/2 cup fresh raspberries
1/2 cup fresh blackberries
1 liter club soda or sparkling water (optional, for serving)
Instructions:
In a large pitcher or punch bowl, combine the red wine, brandy, orange liqueur, orange juice, and simple syrup. Stir well to combine.
Add the sliced orange, lemon, lime, chopped apple, and mixed berries to the pitcher. Gently stir the fruit into the liquid, ensuring that it's evenly distributed.
Cover the pitcher and refrigerate the sangria for at least 4 hours, but preferably overnight, to allow the flavors to meld together.
When you're ready to serve, gently stir the sangria once more to mix in any fruit that may have settled at the bottom.
Fill glasses with ice, if desired, and pour the sangria over the ice, making sure to include some of the fruit in each glass.
If you prefer a lighter, fizzier drink, top off each glass with club soda or sparkling water.
Garnish with additional fruit or a sprig of fresh mint, if desired, and serve immediately.
Feel free to get creative with your sangria by using different types of wine, liqueurs, or fruit combinations. Just remember to let the sangria sit in the refrigerator for a few hours to allow the flavors to meld for the best-tasting results.
For Dessert
Attending a paella making class is a fantastic way to immerse yourself in the rich history and flavors of Spanish cuisine. Not only will you learn to create an authentic and delicious paella, but you'll also gain a deeper understanding of the cultural and regional influences that have shaped this iconic dish. With hands-on instruction from experienced chefs and the opportunity to connect with fellow food enthusiasts, a paella making class is a memorable and enriching experience that will leave you with newfound culinary skills and a greater appreciation for the art of cooking. Don't miss the chance to master the art of Spain's most iconic dish by participating in a paella making class.