Building a well-connected team is integral for the success of any organization, and there's no better way to foster team bonding than through the universal love for food. In today's digital world, we bring this opportunity to your screen through virtual cooking classes. With the Team Building Kit provided by Rockoly, team members can learn new culinary skills, explore diverse cuisines, and bond over this unique experience.
With the increasing popularity of remote work and online experiences, virtual cooking classes with meal kits have become a popular way to bring people together over a shared love of food. Participants can learn new recipes, techniques, and cuisines while enjoying the convenience of cooking at home. Key benefits of virtual cooking classes with Team Building Kit include:
Flexibility: Attend classes from anywhere, at any time, and on any device.
Convenience: No need to shop for ingredients – everything you need is delivered to your doorstep.
Skill-building: Improve your cooking abilities and learn new recipes.
Social connection: Bond with friends, family, or colleagues while cooking and enjoying a meal together.
Unique entertainment: A fresh and interactive alternative to traditional at-home activities.
Rockoly – The Ultimate Destination for Virtual Cooking Classes with Team Building Kit
Rockoly.com is a premier provider of virtual cooking classes with meal kits, offering an exceptional culinary experience for participants of all skill levels. With a diverse selection of classes and a focus on quality ingredients, Rockoly is the ideal choice for anyone seeking an enjoyable and educational cooking adventure. Some of the features that set Rockoly apart include:
Expert Instructors: Learn from professional chefs who are passionate about sharing their culinary knowledge and skills.
Diverse Class Offerings: Explore a wide range of cuisines, techniques, and dietary preferences, ensuring there's a class to suit every taste.
Interactive Experience: Engage in live, step-by-step instruction, and ask questions in real-time to ensure your dish turns out perfectly.
High-Quality Team Building Kit: Receive fresh ingredients and detailed recipe cards, taking the hassle out of meal prep.
Customizable Options: Tailor your virtual cooking class experience to fit your needs, whether you're hosting a private event or participating in a team-building activity.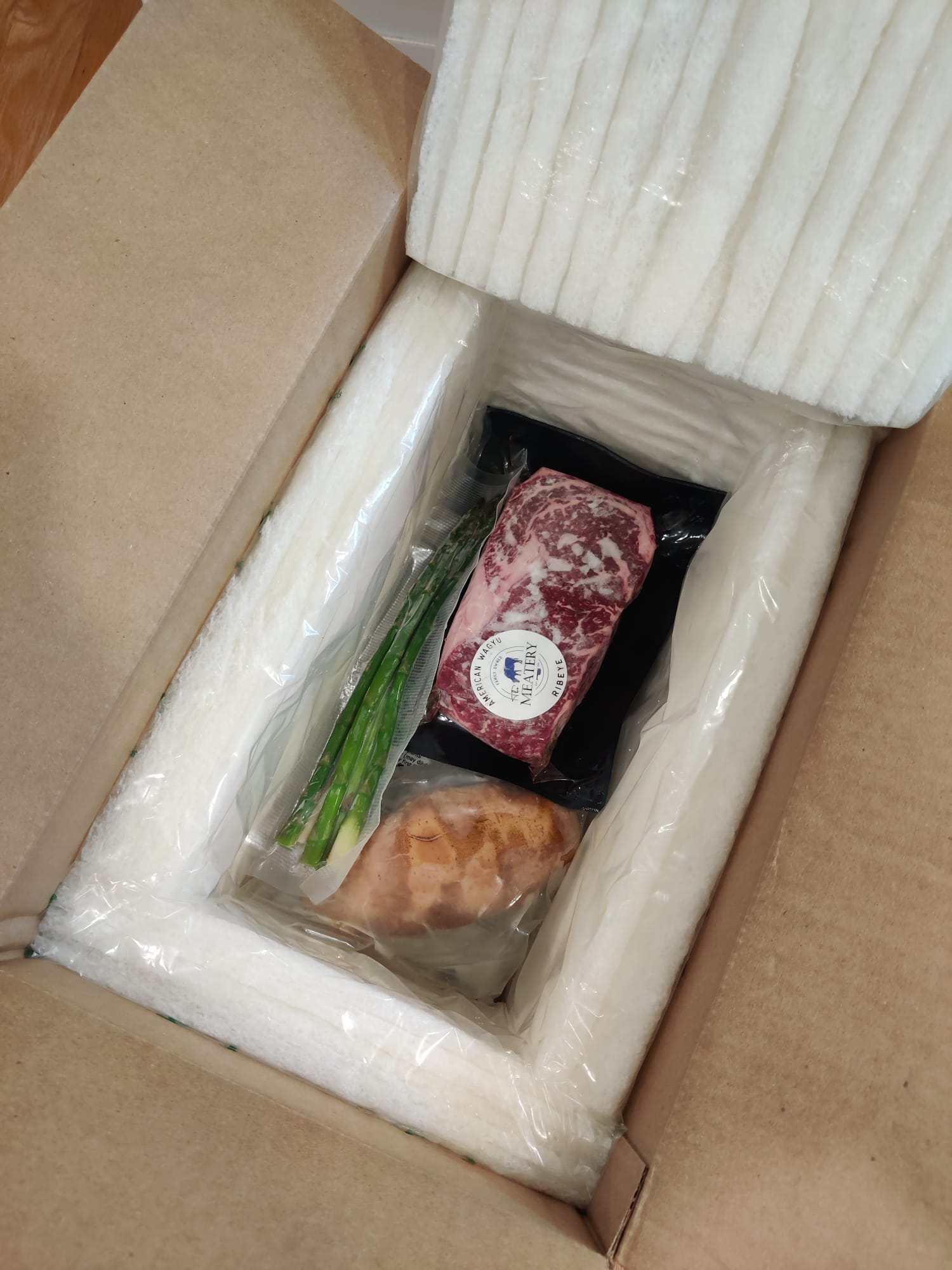 Add a dash of luxury to your team-building activities with Rockoly's Wagyu Team Building Kits. Perfect for steak enthusiasts and culinary explorers alike, these kits offer an unforgettable journey into the world of premium Wagyu beef. Each kit comes packed with top-quality Wagyu cuts, chef-selected seasonings, and high-end cooking tools that ensure you and your team can create restaurant-quality dishes right in your home kitchens. The step-by-step instructions and our live virtual cooking class with a professional chef guide your team through the unique preparation and cooking techniques this exceptional meat requires. Bonding over the mouthwatering flavors and textures of Wagyu beef, your team will not only enhance their culinary skills but also create lasting memories. A Wagyu Team Building Kit from Rockoly promises an exquisite culinary adventure that elevates your team-building activities to a whole new level.
The joy of cooking is universal, crossing cultural boundaries and language barriers. By integrating this activity into a team-building exercise, Rockoly allows your team to connect on a personal level, all while learning valuable new skills.
When you book a virtual cooking class with Rockoly, you and your team will receive a Team Building Kit at your doorsteps. This kit includes the freshest ingredients, top-quality utensils, and step-by-step recipe cards needed for the session. During the class, an experienced chef will guide your team through the cooking process via a live video conference.
Rockoly's virtual cooking classes with meal kits are designed to provide a comprehensive culinary experience that is both enjoyable and informative. Here's what you can expect when you sign up for a class:
Class Selection: Browse Rockoly's extensive class offerings to find the perfect cuisine, theme, or dietary preference for your culinary adventure.
Scheduling: Choose a date and time that works best for you or your group.
Meal Kit Delivery: Receive your meal kit, complete with pre-measured ingredients and a detailed recipe card, delivered right to your doorstep.
Virtual Class Experience: Join your expert instructor via a live video stream, following along step-by-step as they guide you through the cooking process.
Enjoy Your Culinary Creation: Savor the delicious meal you've prepared, knowing that you've honed your cooking skills and shared a memorable experience with others.
Rockoly understands that every participant has unique preferences and requirements, which is why they offer customizable virtual cooking class experiences to suit your specific needs. Some of the customization options available include:
Class Theme: Choose from Rockoly's diverse range of class offerings, or suggest your own theme or cuisine for a truly personalized experience.
Group Size: Whether you're planning an intimate date night or a large corporate team-building event, Rockoly can accommodate groups of all sizes.
Dietary Restrictions: Inform Rockoly of any allergies, dietary preferences, or restrictions to ensure your meal kit meets your individual needs.
Private Events: Host a private virtual cooking class for special occasions, such as birthdays, anniversaries, or family gatherings.
Corporate Team Building: Transform your virtual cooking class into an engaging team-building activity to foster collaboration and camaraderie among your colleagues.
The Rockoly Difference – Why Choose Rockoly for Your Virtual Cooking Class with Meal Kit
Rockoly stands out from other virtual cooking class providers through its commitment to customer satisfaction, diverse class offerings, and exceptional meal kits. Here are just a few reasons why Rockoly should be your go-to choice for virtual cooking classes with meal kits:
Expert Instruction: Learn from passionate, professional chefs who are dedicated to sharing their culinary knowledge and skills with you.
Seamless Experience: Rockoly's user-friendly platform makes it easy to browse classes, schedule your session, and receive your meal kit on time.
Quality Ingredients: Enjoy fresh, pre-measured ingredients sourced from reliable suppliers, ensuring your meal is both delicious and high-quality.
Variety: Choose from an extensive range of cuisines, themes, and dietary options to find the perfect class for your tastes and preferences.
Unparalleled Customer Support: Rely on Rockoly's dedicated customer service team to address any questions or concerns you may have throughout your virtual cooking class journey.
Benefits of a Team Building Kit for Virtual Cooking Classes
The magic of the Team Building Kit lies in its power to create a shared experience, despite the physical distances that may exist between team members. Here's how it adds value:
Boosts Teamwork: The collaborative process of cooking helps to improve communication, encourages teamwork, and helps team members to connect on a personal level.
Enhances Culinary Skills: Everyone leaves the session with improved cooking skills. Who knows, you may discover a budding chef within your team!
Promotes Well-being: Cooking has therapeutic value and can contribute to better mental health. In the current scenario, where remote work can often feel isolating, such activities can significantly enhance overall well-being.
Fun and Enjoyment: Last but not least, virtual cooking classes are fun! They offer a break from routine work, letting the team enjoy the pleasures of cooking and eating together.
In conclusion, Rockoly's Team Building Kit for virtual cooking classes provides an engaging, educational, and fun way to enhance team cohesion. By learning new culinary skills and exploring diverse cuisines, your team can connect on a deeper level, contributing to a more productive and harmonious work environment. Experience the joy of cooking with Rockoly and create unforgettable memories with your team.