With the pressure of work and life pressing down on us, it's no wonder that we look for any opportunity to celebrate, connect and have fun. Socializing and having a good time together are essential building blocks for any team.
Remote working has thrown a bit of a spanner in the works, but fortunately, humanity is innovative and always manages to think outside the box. So there is no reason that we can't continue celebrating and enjoying ourselves remotely with a virtual holiday party.
There are hundreds of ideas and options out there, so everyone is covered, and the perfect virtual holiday party can be built around the unique character and needs of the team.
Let's look at some of the best ideas out there at the moment:
1. Virtual Holiday Photo Booth
Remember the old days of photo booths? Squeals of laughter as way too many people tried to cram into a tiny booth after way too much Christmas punch. But it was worth the struggle, and it's always great to look back at the zany photos stuck on the fridge and give a nostalgic smile.
But all is not lost – you will find capturing memories of your virtual holiday party much easier to manage via Teams or Zoom, but the result is just as fun. So, gather the team for a virtual call and play around with filters and backgrounds to suit the vibe.
Shutterfly has some fantastic printable photo booth props that participants can print at home if they want to put a more authentic spin on their photo booth experience.
Throw in some crazy poses, funny faces, and holiday movie scene recreations to ramp it up and once you are done, choose the best screenshot of your group to send out as a virtual holiday card.
2. Company Secret Santa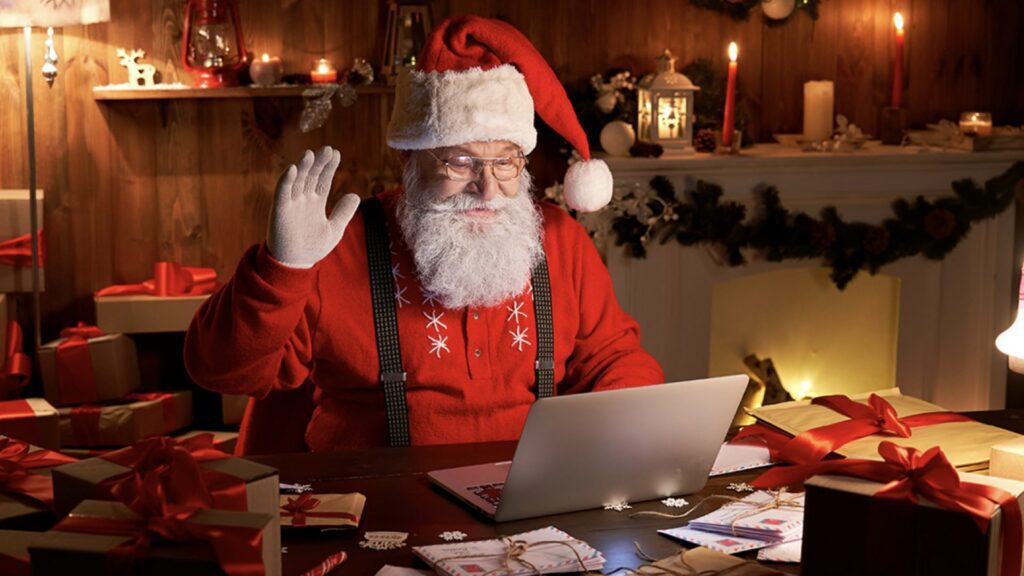 Secret Santa is always fun. There is something about giving a gift that you know is perfect for the recipient, and you can't wait to see the look on their face.
And who says it must be a secret Santa? It can be adapted to any holiday. How about a Secret Jack-o-Lantern? Or a Secret Uncle Sam on the 4th of July? Each team member draws a name and does a bit of digging to come up with the ideal gift.
It's free to organize, so you can even consider donating a minimum spend to make it easier and even the playing field.
3. Make a Virtual Holiday Party Playlist
Music is an excellent way for people to connect. They discover who shares their taste, are exposed to new songs and genres, and get to know what people love to hear in their spare time.
Many songs are appropriate for specific holidays. So, whether it is Christmas songs, spooky Halloween tunes, patriotic 4th of July jams, or Latino-influenced Music for Cinco de Mayo, let each member contribute to a shared playlist to ramp up the festive vibe.
Some options for Halloween:
The Monster Mash by Bobby Pickett
Feed my Frankenstein by Alice Cooper'
The Time Warp from The Rocky Horror Picture Show
Somebodies Watching Me by Rockwell
Sympathy For The Devil by The Rolling Stones
Some options for Cinco De Mayo:
Oye Como Va by Santana
Baila Conmigo by Selena Gomez and Rauw Alejandro
La Bamba by Ritchie Valens and Los Lobos
Amor Prohibido by Selena
Cinco De Mayo by Pitbull, Lil Jon, Chesca
Some options for the 4th of July:
Born in The USA by Bruce Springsteen
Color Me America by Colly Parton
Party in The USA by Miley Cyrus
Firework by Katy Perry
American pie by Don McLean
Use a streaming service like Spotify that has collaborative lists. Team members can guess who contributed what to make a game out of it. Hold a contest for the worst choice, the cheesiest song, or even the one that missed the memo and didn't fit the theme at all.
4. Virtual holiday dance party
Take the holiday playlist up a notch! Ask around and collate an ultimate virtual holiday party playlist. Then get your team together online, clear a space, and bust a move.
Use Apple's Photo Booth app to make some GIFs, then create an entertaining montage that can be shared with the team. You can customize the party by giving it a more specific theme. Maybe focus on 80s music or boy/girl-bands. This way, it can also double up as a dress-up party, which will add to the vibe.
5. Virtual karaoke night
Take the virtual holiday party music experience up a notch and host a virtual karaoke party. Find a virtual karaoke service online and set your team up to give their best Cyndi Lauper or Disney theme performance.
Teams can sing solo, duet, or as a group, and they can ham it up as much as they want to get more laughs. Choose the corniest, most cliched songs to elicit some collective eye-rolling. Then, add a dress-up element to add to the festivities.
6. Pumpkin-carving contest
Do you know why we eat pumpkin pie and carve up pumpkins at Halloween? The Jack-O-Lantern came about when people still believed that they were vulnerable to evil spirits on Halloween night. So, a Jack-o-Lantern was placed in the window or on the porch as protection, and all the leftover pulp was put to good use and transformed into delicious – now traditional – pumpkin-flavored treats.
Host a virtual pumpkin carving contest for a bit of competitive Halloween fun. Arrange a local orchard to get some pumpkins to the participants and set some categories and ground rules.
Prizes can be awarded for the scariest expression, the most artistically talented carver, the most unusual, and even the biggest disaster. Then, the team can have their Jack-O-Lantern sit in with them at the next meeting.
7. Mystery Holiday Theatre 3000
Mystery Science Theatre 3000 was a popular comedy show where the hosts offered a running commentary on cheesy Sci-fi movies. Your team can adapt the idea for a fun virtual holiday party using holiday-themed films.
Mystery Holiday Theatre 3000 is a virtual holiday party activity where coworkers watch and discuss a movie together using an interactive video call platform.
Let the team pick a classic, like Home Alone, It's a Wonderful Life, National Lampoon's Christmas Vacation or Jingle All the Way.
The funnier the chat and commentary, the better.
8. Virtual Themed Casino Night
Why not make your next virtual holiday party theme 'Casio Royale' and let the team dress to the nines and come together for some online stakes? Virtual casinos have adapted to the remote space and offer interactive games with live dealers that give an authentic casino experience.
To keep it comfortable and ensure everyone gets in a few responsible games, issue teams with a virtual card preloaded with a spending limit. You can tailor the stakes by adding additional prizes for the best dressed and the luckiest and unluckiest team members.
Keeping in the spirit of giving, a nice touch is to issue a disclaimer upfront that all winnings will go to a charity agreed upon by the team.
9. Gingerbread house building
Nothing sums up the festive spirit like intricately decorated gingerbread houses. And who is to say it is something strictly reserved for a December virtual holiday party. It can be enjoyed at any time of year, and your team can customize their decoration style to suit the holiday theme.
Send your team the bits they need or supply a budget so that they can source their own, and then everyone comes together online to build their architectural masterpieces.
There is a selection of hosted gingerbread house decorating workshops available, so your team will receive everything they need and be guided through the process. Then, add a competitive spin and let your team vote on the best house.
10. Virtual Wine Tasting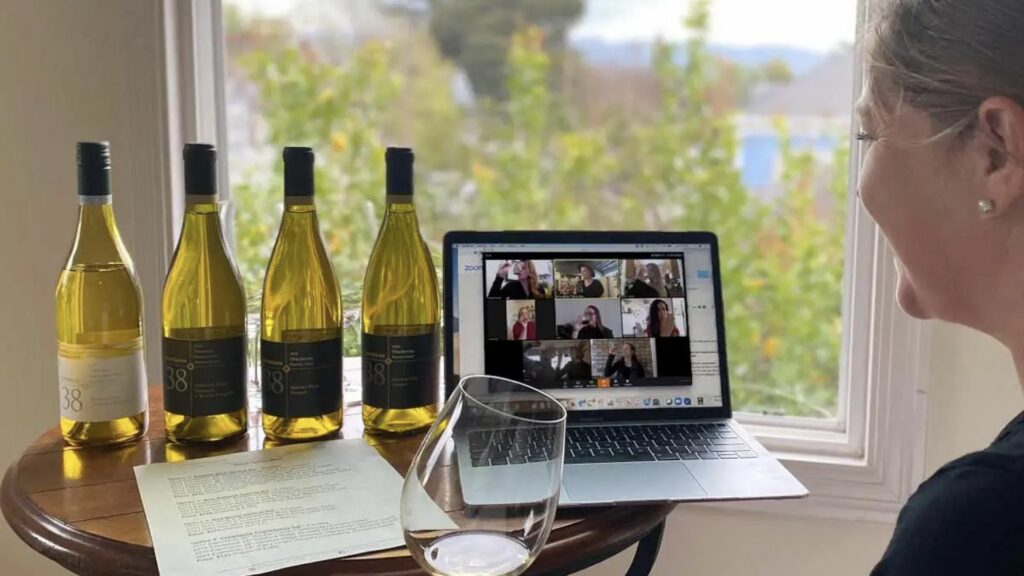 Oenophiles will love this one. You may even discover some hidden connoisseurs amongst your team members. An online wine-tasting workshop is a great way to mingle and do something different.
Rockoly hosts an interactive wine tasting workshop with expert sommeliers, who will take them through the history of wine-making and the wine-making process and conduct a wine tasting with some of Spain and Italy's finest wines
Everything your team needs is delivered to their door to take out any of the preparation hassles. Learn more about it here.
11. Holiday movie dubbing party
Want to enjoy some improve and have a great laugh together? A movie dubbing virtual holiday party will deliver all of that. Pick out some holiday classics and some cheesy favorites. Then, assign a scene to each member and let them rewrite the dialogue and perform it over the scene. The results are hilarious and will result in some memorable faux pas.
What the Dub?! is a great platform to facilitate your fun and make it more streamlined. It even creates a score and assigns a winner. Teams can be broken up into groups of 6, but each team can also have 12 spectators, which guarantees great fun and laughter.
12. Tradition or Not?
There are many crazy Christmas traditions around the world. From zombie horses in Wales to the Japanese Christmas tradition of Kentucky Fried Chicken, you'd be forgiven for struggling to differentiate between what is real and what is not. Tradition or Nit is a great virtual holiday party event that will have your team scratching their heads and will lead to some hilarious results.
This take on Two Truths and a Lie will let your team get to know each other better when they all create a list of their own unique holiday traditions as well as a bizarre one from elsewhere and a completely fake one. Teams have to guess which ones belong to which teammate, which are from afar, and which are non-existent.
13. Ugly sweater party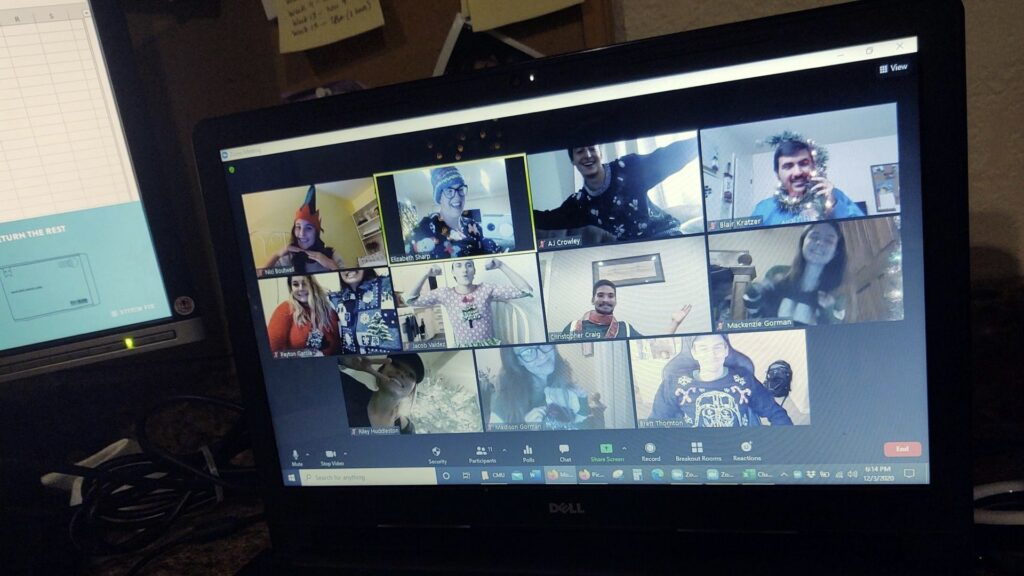 Isn't it funny how the sweaters that were once just the typical attire worn by uncles and grandpas at the family Christmas get-together have become an iconic symbol of the festive season? And the uglier, the better. People spend the entire year sourcing the perfect 'ugly sweater'. So, why not give them the chance to showcase their hideous finds in an ugly sweater virtual holiday party.
Make it competitive and let the team cast a vote to select a winner and throw in some festive fun like holiday trivia, holiday karaoke, and a festive movie marathon.
14. DIY Craft Challenge
Get your team to search the house for random items and challenge them to create some functional art. It's a great way to boost creativity and quick thinking.
Give a list of specifics to keep it fair. Maybe limit the number of items allowed. Or give a time limit – whatever you can think of. The goal is not to create a thing of beauty but more about creativity and following a brief. You can have a list of categories and award prizes. Whose is the most functional? Whose is the most creative? Which one was a total failure? Come up with the categories together.
15. Virtual Trivia
Trivia is always a win. You can create your own or use an app like Kahoot! To create quizzes, Hangman games, or crosswords where the clues line up with things related to the team or opt for a hosted trivia game. There are also online versions of traditional game shows like Jeopardy and Family Feud. Virtual pub trivia can also be a fun way for the team to don their trivia hats
An excellent virtual pub crawl was always a fantastic idea for a virtual holiday party. Whatever you choose, you are in for a great time, challenging each other, discovering more about your team, and having a good laugh.
16. Typing Speed Race
This is a free online team-building activity with a completive vibe and increases skills simultaneously. Use an online typing site for a free, fun, and competitive virtual holiday party. Not only do you get the adrenaline pumping with a timed game, but you can also create an ongoing challenge so your team can continue to work to beat the top score. They'll improve their typing skills at the same time.
17. A Word or Two
Word games are strangely addictive, and free online games and apps are abundant. So why not organize a Scrabble party. There are a lot of laughs to be had when people try their luck at made-up words or manage to convince the team that bizarre words exist.
Scrabble GO, Words with Friends, and Scattergories all have platforms where you can organize a team event and have a competitive night of fun. These games can also continue after the party as team members can continue to challenge each other and play in their spare time.
18. Costume contest
One of the simplest yet most fun ways to celebrate a Halloween virtual holiday party is to go all out with a costume contest. Make things interesting by including a make-up and effects category so that your team can show off their creative abilities. Each team member gets a chance to showcase their outfit, and then a vote is held to choose a winner. Make sure you take plenty of screenshots and put together a virtual photo album as a keepsake.
19. Virtual painting party
Looking for an unusual virtual holiday party idea that focuses more on mindfulness, relaxation, and creativity? Then a virtual painting party is a great option, and your more introverted team members will thank you for it.
You can send supplies to your team or issue a Hoppier virtual card so that they can go and get their materials. Alternatively, choose a workshop like Painting to Gogh or JJArtworks, that will take care of the entire party. This is a fantastic alternative to traditional parties' usual rowdiness and exertion.
20. Wreath making party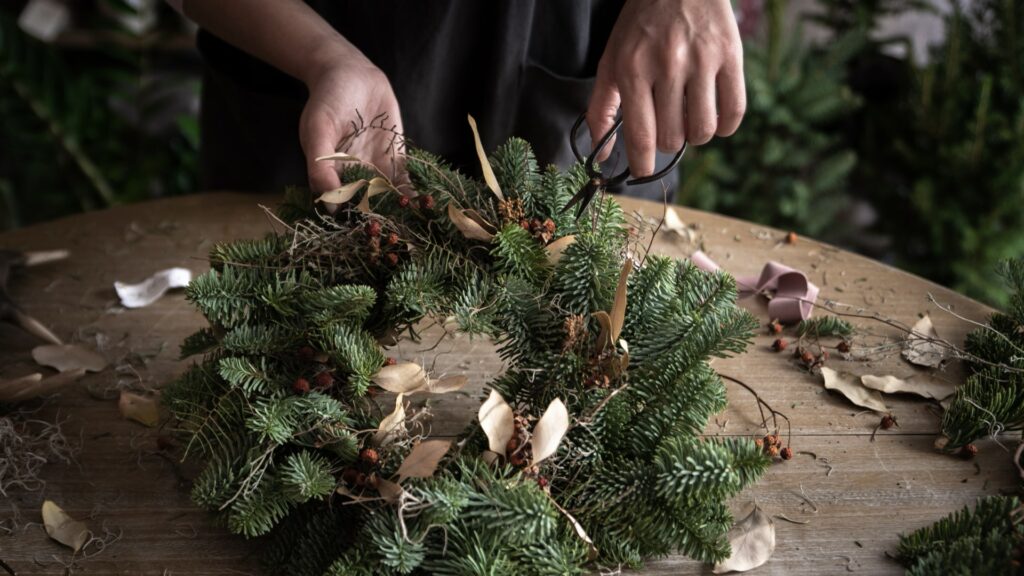 This is a great craft idea for a hands-on virtual holiday party. People want to decorate their homes over the festive season, so why not add a competitive spin. Crafting is relaxing and great for the soul too. An outside company can supply everything you need and guide the team through the process. You can add a twist, but get teams to design a wreath that captures something unique about them. Maybe decorations that represent their love of animals or their favorite music. It makes a great talking point, and the team can discuss their wreaths after the fact, allowing them a chance to get to know each other better.
21. Virtual festive talent show
A talent show is a great virtual holiday party idea because it allows the team to choose their own activity and showcase their talent to the rest of the group. For example, you probably didn't know that you have a budding opera singer in your midst. Or that the guy from accounting did magic tricks as a hobby. Whether it be singing, dancing, stand-up comedy, miming, or anything that floats their boat – the world is their oyster.
22. MTV Cribs: Home Edition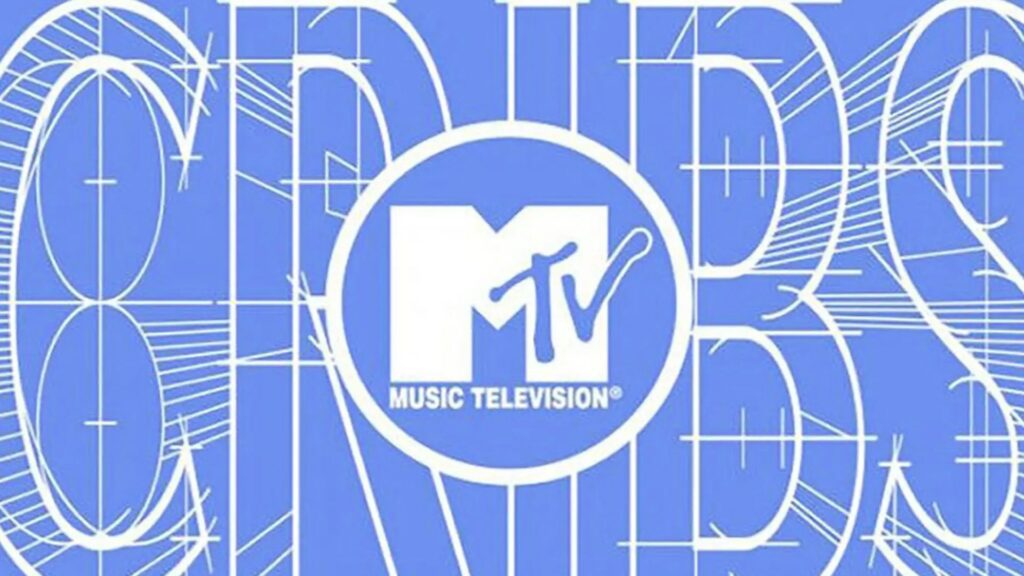 MTV Cribs has been going for more than 20 years. Celebs take a camera crew on a tour of their homes and showcase their magnificent – sometimes bizarre – features. (Remember the rumors about Kanye's gold-plated toilet?)
MTV Cribs: Home Edition is way more fun because your team can either set up a space or take the ream on a tour of a random spot in their home, like the guest loo or the attic. They can exaggerate, elaborate and ham it up to ensure plenty of laughs and guffaws.
23. America, the Beautiful
You'd be surprised how few people can name all 50 states when under a bit of pressure. Name the States works well as a timed game, and teams can break into pairs – two brains are better than one. There are a few options on this one. Players must list the US states within a set time and accumulate bonus points if they can name the capital city of each state. There are also online games and apps that give a blank map of the US, and contestants must put the correct state name in the right place. And it doesn't strictly have to be based on the US. There are games available for all kinds of options. Name European countries, African countries, capital cities of the world – 1 the list goes on and on.
24. Who is the Most Likely to…?
When you were in high school, the much-anticipated yearbook would proudly announce the results of the 'most likely to' poll. Who was most likely to succeed? Who would have at least six kids? Team leaders give a few prompts for the virtual holiday party version of 'Most Likely To,' and the team votes on who they think fits the bill.
Some ideas for prompts:
Who is most likely to meet a celeb?
Who is most likely to end up on the new (and why?)
Who is most likely to have the most pets?
You can be as far-fetched as you like — part of the fun is coming up with the prompts!
25. Online Cooking Workshop
Consider an online cooking workshop if a simple recipe swap doesn't quite float your boat, and you are looking for something facilitated and organized. This virtual team event is a fresh, fun approach to a cooking workshop and offers many meal options that suit all tastes.
Regardless of where your team is scattered, they can come together for a fun interactive workshop. The preparation and admin are painless and convenient, with all ingredients delivered to the participants upfront.
Rockoly is an excellent option and offers various inspiring virtual team event menus that are customizable to fit the company's budget, cuisine themes, and dietary requirements.
If you want to plan a virtual holiday party and need help with some ideas, check out Rockoly's ultimate food calendar. It highlights reasons to celebrate throughout the year and offers online cooking workshops to fit each celebration. Halloween, St Patrick's Day, Valentine's Day – you name it.
Why not make a plan to get together and celebrate at least one holiday a month through the joy of food, coming together to break bread, and learning a bit of history at the same time?
Rockoly also features menus from across the globe. So, your team can have an "Around the World" virtual holiday party, where your menu is customized to feature a delicacy from at least five countries. Throw in some mixology or wine-tasting to ass to the festive atmosphere.
Also, Rockoly's Virtual Happy Hour takes Happy Hour to the next level. Trained mixologists teach your team to conjure up some bespoke cocktails as they learn about the art of Mixology! Check it out here.