Over the last decade or so, technology has brought us closer together in many ways.
The internet, social media, video conferencing, and remote working were slowly starting to catch on. Thankfully, the infrastructure was already there, so when 2020 blindsided us, corporate life could make a plan and carry on.
While most of us agree that we never want to relive the days of the pandemic, we can sit back and take stock of what we learned. It would be silly to throw the baby out with the bathwater and not embrace the positives.
What the Pandemic Taught Us
Many businesses and corporations realized that remote and hybrid working had many benefits. Overheads were cut dramatically; thanks to those simple things we take for granted. Keeping the office coffee station stocked, ensuring the toilet paper never ran out, leasing massive office spaces that cost an arm and a leg – suddenly, there seemed to be a more cost-effective way to keep these overheads down, even though the business could continue to thrive.
Employees also enjoyed the benefits of the new structure too. No more commuting daily, a better work/life balance, and better opportunities for parents to share responsibilities such as the school run, helping with homework, and ensuring the family was served a good meal.
Another big plus was that international corporations and companies with employees spread out across the country or the globe realized that they could be more inclusive of their entire staff. Virtual meetings linked the team as a whole and gave them opportunities to connect with colleagues they wouldn't have in the past.
But one thing remained a challenge. Human beings are social by nature, and strong team dynamics are critical for a company to thrive. But how do you get your team to engage when they can't even be in the same room?
Once again, we took life's lemons and made lemonade. With some out-of-the-box thinking, team development strategies could be adapted to suit the virtual realm. Employers and employees could still enjoy the benefits of having down time together, having fun, and building up team morale.
Making Lemonade
So, here we are, two years later. And as challenging and traumatic as the last two years were, many companies have chosen to embrace the positive and keep using tech to connect their staff and ensure that relationships continue to thrive.
There are now many virtual and remote team-building workshops and activities available. They are designed for those who have chosen to continue enjoying the benefits of remote and hybrid working and for those companies that want to connect their entire team regardless of their geographical location.
Virtual Team Building with Rockoly
Rockoly recognizes that good food, wine, and merriment are the glue that keeps us together. So, what better way to get your team involved, energized, and enthusiastic than by using the very things we use to bond with our families and friends.
Almost all celebrations, festivals, and get-togethers include food and drink. When we look through the history books, they are filled with stories of people coming together and 'breaking bread'. Food and drink were a big motivation for exploring trade routes and ensured that traditional meals from cultures across the globe made their way into kitchens on the opposite side of the world.
Rockoly has harnessed the bonding power that food and drink provide and offer three incredible services that your team can enjoy together yet in the comfort of their own homes. These services are designed to bring out the best in everyone, leaving no one behind, and the quick pace will keep everyone on their toes, chatting, getting to know each other, and having a good laugh. And they get to learn something new at the same time.
If it sounds like an admin nightmare, you are wrong! Why? Because you don't have to lift a finger. Rockoly will handle everything, including ensuring that the necessary ingredients are delivered to each team member's door.
Online Cooking Workshops
Cooking workshops and contests are a fun, light-hearted way to get everyone involved. Even those team members who have trouble boiling an egg will have a good laugh and learn something new.
There is more to a cooking workshop than meets the eye. Numerous soft skills are practiced during the process that will carry through to the work environment.
Cooking and meal preparation require planning – an essential soft skill. As one would with a business project, the amateur chefs need to assess their resources and see what needs to be delivered within a specific time. And time management is also an essential skill.
Communication is a cornerstone for any relationship and is brought to the fore when engaging in workshop activities requiring active listening and a clear understanding of what is being asked.
We've all seen enough cooking shows to realize that in these circumstances, you must perform under pressure, especially when trying to beat the clock. And cooking workshops also pave the way for collaboration, problem-solving, and creativity.
Rockoly's online cooking workshops will ensure that your team comes together and has a great time while bonding, having fun, and creating something new. A team that can let their hair down together and enjoy each other's company will be more motivated and energized to work together in their work environment.
The menus cater to vegetarians and vegans too, and there are so many menu options available that it is easy to work towards a theme. Perhaps you want to take them on a virtual Mediterranean getaway or celebrate one of the many holidays that pop up during the year.
And geography is not a problem. Your team can be spread around the globe. Rockoly's expert chefs use video conferencing to guide and motivate teams to create delicious, beautiful meals that the family can enjoy without leaving the comfort of their own kitchens.
Virtual Wine Tasting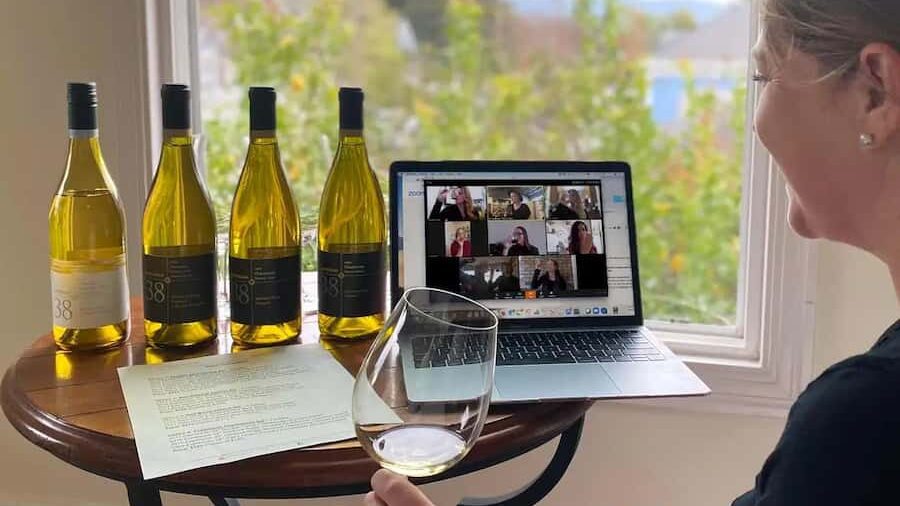 If you want something a little more sophisticated or are looking to add a little extra to your cooking workshop, how about a wine tasting evening?
It can be a great team-building activity even for those who aren't connoisseurs. A virtual wine tasting is a delicious, fun, and educational way to connect with your team and enjoy a good vintage or two while at it.
Rockoly's interactive wine tasting workshop is hosted by an expert sommelier who will win the heart of the oenophiles on the team while teaching a thing or two to the rest.
Your host will educate your team about the history of winemaking, let them discover the process, and enjoy tasting some of Spain and Italy's finest wines.
Again, you don't need to worry about planning and preparation as everything your team needs is delivered up front. If you want to create a more elegant event, consider adding a charcuterie board and enjoy a cheese and wine evening that will be spoken of fondly for years to come. Simply pick your wine county (Italy or Spain), await your delivery, connect, and enjoy.
It's a virtual team-building activity that's bound to make memories!
Virtual Happy Hour
The long-standing tradition of Happy Hour was lost in the pandemic's early days. However, it has been a part of office culture for decades and has always played a role in fostering connections, allowing employees to get to know each other outside of the office and to have some fun together.
Thanks to Rockoly, Happy Hour continues to thrive in a remote world.
A virtual team-building Happy Hour is a fantastic way to boost morale and encourage connection. A specially trained mixologist will guide your team as they create traditional and bespoke cocktails they can enjoy in each other's company.
Mixology is the art of mixing the perfect combination of spirits and flavors to create unique and delicious mixed drinks to suit every taste. And a mixologist is a lot more than a bartender. After formally studying the history of spirits and drink mixing, they specialize in traditional cocktails, create their own recipes, and keep up with trends and local culture.
So, whether it's a virgin mojito that you crave, a decadent pina colada, or a whiskey high ball, there is something for everyone to enjoy. Have a look at our Happy Hour blog to discover some of the lesser-known facts and history of the world's most loved cocktails and mixers.
Ready for some virtual team building?
Fill out the form below if you want to harness the power of creating and enjoying delicious food and drink to boost your team's morale and nurture their relationships.