No matter who you are, where you live, and what language you speak, one thing is for sure – you need to eat. And humans have ensured that this necessary task is something we can take pleasure in. We have put together Rockoly's top rated Virtual Team Building Cooking Classes to do just that! Eat and take the pleasure in.
Whether you're catching up at your favorite downtown bistro or trying out the latest craft beer brew and pretzels at your favorite small-town bar, we feel more comfortable and free to let our guard down when we get together over something delicious.
Our lives center around food. It represents our culture and heritage and has been at the center of celebrations and festivities for eons.
We have a fascination with food, and regardless of the historical event, there is usually a side note or two relating to what was eaten at the time.
"Eating together is an occasion that humans have made into a peacemaking ritual" – Author: Paul Theroux
Food for Thought
Food is with us through the good and the bad. It has been present in every major incident in history in some way or another.
Marie Antoinette supposedly said "Let them eat cake" – although the validity of that claim is up for debate. Food is the glue that keeps us together through thick and thin.
And just for good measure, with a side order of historical facts, here are some fun food facts from times gone by.
If you were unlucky enough to be aboard the Titanic on her maiden voyage and were in the first-class dining room when the last meal was served, stretchy pants were advisable. The ten-course dinner included oysters, filet mignon, roast duck, and squab.
Neil Armstrong, Buzz Aldrin, and Michael Collins spent twenty-one and a half hours on the moon in 1969. And a guy's gotta eat. So, the first meal to be eaten at 'Café de Luna consisted of a bacon bar, peaches, sugar cookies, and coffee.
The first humans indulged in what is today considered fine cuisine – a seafood smorgasbord containing scallops, mussels, calamari, and oysters (without Tabasco and lemon, I assume)
The Chinese created the first ice cream in 3000BC
The Mayans and Aztecs were the first cultivators of cocoa beans. They used them as currency, and when the Spanish brought them home, the new crew swept them overboard as they mistook it for sheep poop.
Serial killer, John Wayne Gacy, ordered a bucket of KFC as his last meal. At one point, he managed a KFC outlet.
Love spicy food? The tradition of adding strong spices to meat dishes comes from the days before refrigeration. In hot countries, meat would spoil quickly, and the spices would disguise the foul smell and taste.
Rockoly Team-Building Fascination with Food
Food is often used as a catalyst for bonding. We share meals on first dates, invite friends over for a home-cooked dinner, welcome new neighbors with a basket of treats, and hand-deliver meals to those who are grieving.
Food is an emotional comfort; a chance for would-be gourmet geniuses to pretend they're Gordon Ramsay for the night, and a trigger for the senses that takes us back to times we never want to forget.
Many of us get immense pleasure from sitting back and watching cooking shows they go back decades. Remember Julia Childs, Keith Floyd, and Martha Stewart?
We have evolved somewhat since then, and the TV kitchen was taken over by the likes of Jamie Oliver, Nigella Lawson, and Gordon Ramsay.
Things were then taken up a level when the shows became more interactive. Cooking contests like Masterchef, Chopped, and Hell's Kitchen had many of us glued to the box.
"No matter our age, everyone in our household knows that cooking and eating together is where the fun is" – Author: Corky Pollan
Life Imitates Art
Cooking can be as competitive as the Superbowl; as nurturing as a mother's packed lunch, and as charming as Don Juan (if he used culinary charm instead of his dashing good looks).
There's no reason to keep these contests and cooking workshops for TV entertainment only – it didn't take long before companies began offering cooking workshops and competitions to the public.
People were signing up for several reasons – different ways to socialize, gift experiences, and corporate team-building events, to name a few.
Cooking workshops and contests are excellent options for team-building events. Even those who claim to hate cooking feel differently when it is in a fun, light-hearted setting.
It's a very different approach to outdated ideas like trust falls, three-legged races, and Bingo evenings.
Remember those joyless company barbecues where everyone had a hotdog and a drink coupon? How about company retreats with bedbugs, bunkbeds, time away from family, and runny scrambled eggs for breakfast?
Cooking workshops cleverly disguise skill building and team bonding in a cloak of fun and relaxation, but the skills practiced during the process are carried through to the work environment.
Meal preparation requires planning – which is an essential skill in the workplace. Budding chefs need to assess their resources, manage their time, communicate with their team, and work under pressure to beat the clock. Sound familiar? All standard practices in a corporate environment
Over the last two years, we have seen yet another evolution unfold in the workplace – remote and hybrid working. But that doesn't mean that the crazy kitchen capers must grind to a halt.
Instead, Rockoly brings them right into your home and lets you cook up a storm with as many friends as you like without leaving the comfort of your own kitchen.
Online cooking workshops mean you can include whoever you want in your culinary adventure, even if they are scattered across the globe.
Highly skilled chefs host these workshops and guide your team to create delectable meals from scratch. And don't worry about finding time to go to the grocery store. The ingredients are delivered to your door.
There is a menu and a selection of dishes to suit every occasion and every taste. So if you are looking for a way to observe holidays, want to experience foods from the Mediterranean, Asia, or the Americas, or want to create delicious cocktails, Rockoly has you covered.
"Nothing- not a conversation, not a handshake or even a hug- establishes friendship so forcefully as eating together." – Author: Jonathan Safran Foer
Top Rated Virtual Team Cooking Classes: (Ranked)
You are spoiled for choice when deciding what you'd like your team to cook up. So, to make it a little easier, we've selected Rockoly's top ten menus to help you out.
10. Buttermilk Cinnamon Rolls
There is nothing more comforting than the smell of freshly baked cinnamon buns. They originated in Sweden and are still a traditional favorite of the Scandinavian region.
The Swedes celebrate Cinnamon Roll Day (Kanelbullens dag) on October 4th. The Romans discovered cinnamon in Sri Lanka and brought it to Europe centuries ago.
Learn how to bake classic cinnamon buns with Rockoly and top them off with a sweet and delicious buttermilk glaze.
The smell of these freshly baked goods delights your senses, especially when paired with an expert-led coffee-tasting workshop. Discuss the origin of your favorite cup-a-joe, coffee bean roasting techniques, and tasting notes.
"Anyone who gives you a cinnamon roll fresh out of the oven is a friend for life."― Lemony Snicket, When Did You See Her Last?
9. Tikka Masala
India is as diverse as it is massive. It has 22 official languages and 100 additional languages, and although it is predominantly Hindu, Christianity, Islam, and Buddhism are widely practiced.
Hundreds of years of invasions, trade route discovery, and colonialism have resulted in a melting pot of cultural cuisines.
The quintessential Indian dish, Curry, is a broad term. The name curry comes from the Tamil word "Kari", and there are over 150 variations.
It means a soup or sauce to be eaten with rice. Common ingredients include coriander, garlic, star anise, turmeric, cumin, and chilies.
Enjoy this popular Indian chicken dish with a side of Basmati rice. Are you looking for a great vegan alternative? Chickpeas make an excellent substitute. Make this a unique cooking experience by creating fresh naan from scratch – a favorite everyone will love.
Complete the occasion with a wine pairing add-on and explore Italian vineyards to complement any dish.
"Indian food is a luxury on tour."– Mahesh Bhupathi
8. Empanadas
Latino foods are a magnificent mix of flavors and foods that resulted from meeting cultures through the centuries.
The dishes are full of variety and flavor, rich in ingredients such as avocados, beans, cheeses, chipotle peppers, garlic, rice, and tomatoes.
Create delicious cheese and corn empanadas with Rockoly. Empanadas are made with gooey, cheesy corn filling wrapped in a crisp, crusty pastry.
Empanadas are served with spicy sesame chili oil, creating a delectable handheld dish.
Pair with a refreshing cocktail or some creamy horchata to heighten your experience.
No Solo de Pan Vive el Hombre – Man does not live on bread alone
7. Spanish Tapas
Tapas are Spain's signature snacks. The bite-sized delights are served on small plates and are the best way to combat food envy. They are great for sharing, and you can have a bit of everything.
Tapas is a broad term and ranges from simple dips and homemade bread to slow-cooked meat and seafood.
Tapa means 'lid,' and the practice comes from when tavern owners would place a slice of bread or cheese on the patron's drink to keep the flies out.
It is also said that King Alfonso X used the concept to prevent public drunkenness, as he realized that serving small portions of food diminished the effects of alcohol.
"A beber y a tragar, que el mundo se va a acabar."
Eat, drink and be merry, for tomorrow we die
6. Japanese sushi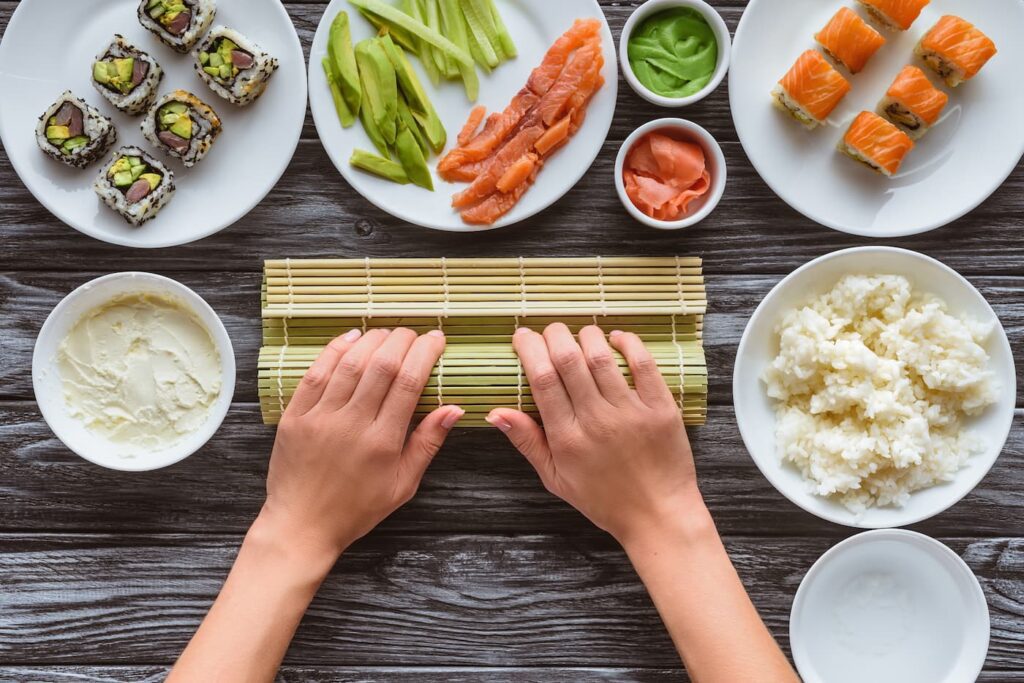 Sushi is usually the first thing that comes to mind when considering Japanese cuisine. But, interestingly, sushi originated in China between the 5th and 3rd centuries BC.
Chinese travelers introduced the dish to Japan six hundred years later and embraced it, making it their own.
Originally fish was salted and fermented to preserve it, and the rice was used to protect the fish and was often thrown out. The raw fish version that we have come to know only came about many years later.
The Japanese brought the art of sushi making with them to the US, but it was an exclusive dish enjoyed by the upper class.
However, its popularity was boosted after the 2nd World War, and eventually became a much-loved favorite among Americans.
Master the art of sushi making with one of Rockoly's. Together, you and your team will learn how to prepare the perfect Sushi rice and create delicate California Maki Rolls with fresh cucumber, avocado, and crab or surimi.
But, of course, sushi is not sushi unless it is served with salty soy sauce and fiery wasabi.
Rockoly will immerse you in Japanese culture. Enjoy the country's unique alcoholic beverage – sake – and take a course on traditional sake etiquette.
Did you know it is rude to pour your own sake? Tradition states that you always pour for someone else, and they will return the favor.
Also, remember always to hold your sake in two hands and only start sipping when everyone has a full cup, and the host has raised his glass.
Gochisousama Deshita(ごちそうさまでした/ご馳走様でした)
It was a feast
5. Top Virtual Team Cooking Classes: Chocolate Lava Soufflé
There is a bit of a debate about the origin of this decadent, oozing treat. New York chef Jean-Georges Vongerichten claims to have invented it in 1987, but French chocolatier Jacques Torres claims it was already enjoyed in France many years before.
Vongerichten claims his invention was the result of a happy accident. In his haste, he took a chocolate sponge cake from the oven too soon, leaving the center runny.
Rockoly's Chocolate Lava Soufflé is the perfect workshop for sweet tooth lovers. The fluffy dream of a dessert is served with a fresh strawberry sauce and can be paired with an expert-led coffee-tasting workshop.
"All you need is love. But a little chocolate now and then doesn't hurt."
Charles M. Schulz
4. Top Virtual Team Cooking Classes: Quick Italian Pizza
The Italians have enjoyed pizza as far back as 997. They are the perfect option when you have a mix of vegetarians and meat lovers because they are so easy to customize.
Pizza came to America after the Second World War, and since then, tourists have spent many vacations in Italy seeking the perfect slice of pie. Pizza can be the ultimate experiment. Nowadays, you get so many unique – and even outrageous – toppings.
Make the perfect pizza with Rockoly. Then, complete the occasion with a wine pairing to feel like you are on vacation in Italy.
A tavola non si invecchia. – Italian proverb.
At the table with good friends and family, you do not become old.
3. Top Virtual Team Cooking Classes: Charcuterie Board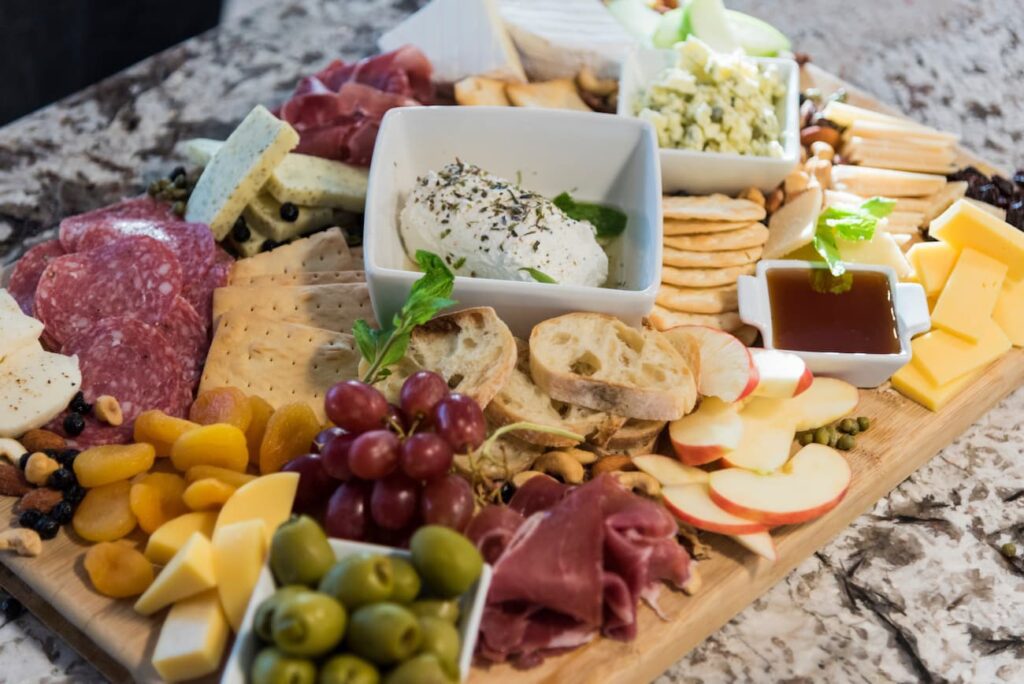 If you want to add a touch of class to your next wine-tasting event – also offered by Rockoly, by the way – a charcuterie board is a perfect add-on.
A selection of fine cheeses, cured meats, pates, and artisan bread is the ideal appetizer and can also be done as an entrée before your team gets stuck into the next dish.
A Charcuterie Board is traditionally served on a wooden board, and diners can select their snacks as they go. Technically, a charcuterie board is not the same as a cheese board, but nowadays, the terms are interchangeable.
Charcuterie is the name of a French style of cured meat developed in the 15th century. Charcutiers (pork butchers) were specialists in preparing the much-loved cold cut, which has become entrenched in French culinary culture.
Mangez bien, riez souvent, aimez beaucoup.
"Eat well, laugh often, love a lot."
2. Top Virtual Team Cooking Classes: Cavatelli with Pesto
Cavatelli means "little hollows," and these crescent-shaped delights have been around since the thirteenth century. The Italian staple is served with a thick sauce stuffed with fresh vegetables. Cavatelli is one of the oldest pasta shapes in Italy, originating in Molise, a Southern Italian region.
Cavatelli simple ingredients –semolina flour and salted water – are mixed to form a dough. It was initially a meal eaten by peasant families as it was easy, accessible, and inexpensive. Today the delicacy is enjoyed by everyone, including nobles and aristocrats.
A delicious sauce that often accompanies pasta is pesto. Pesto is an aromatic paste created from crushed garlic, fresh basil, and pine nuts. Throw in extra virgin olive oil and delicious Parmigiano Reggiano cheese, and you have a taste sensation.
Rockoly's Cavatelli workshop will guide you and your team through creating the ultimate Italian cavatelli pasta, blending it with mouth-watering basil and walnut pesto.
Add a wine pairing to the experience and enjoy an authentic Italian taste sensation.
Chi va a letto senza cena tutta la notte si dimena.
Translation: He who goes to bed without eating will regret it throughout the night.
1. Top Virtual Team Cooking Classes: Mexican Street Tacos
Central America and Mexico gave us corn, and we are eternally grateful. Corn and flour tortillas wrap ingredients and create delicious enchiladas, tacos, fajitas, and many delicious Hispanic delights.
Rockoly will first guide you in making delicious tortillas from scratch. This thin flatbread is made from unleavened dough, using finely ground corn flour, which is then pressed and baked.
The name means "small cake," and the oldest record of tortillas dates to 10,000 years BC. Maize (corn) was a staple food of the Aztecs.
Create delectable tacos with your freshly made tortillas. Stuff them with mouth-watering steak, fresh guacamole, and zesty corn salsa. The menu is customizable, and vegan/vegetarian options are available
A good guac is made from mashed avocados – one of the greatest gifts the earth has given humankind – lemon juice and seasoning and is the perfect accompaniment to any taco.
Rockoly's top ten is just the tip of the iceberg. There are more than thirty dishes to choose from, including other delights such as gazpacho, Spanish paella, Nepalese momo dumplings, a smokey veggie burger, or a rainbow fresh fruit tart.
"When eating becomes a matter of life or death, and each new bite is a celebration, you may discover that none of the other stuff was quite as important as sitting and breaking bread together." Author: Bee Wilson
Rockoly is an excellent option and offers a variety of inspiring workshops. In addition, they have a menu for everyone, no matter the company's budget, staff preferences, and dietary requirements.
Ingredients can be delivered to participants in Australia, the UK, Canada, Sweden, Ireland, Germany, South Africa, Mexico, India, the Philippines, and more.
If your location is not on the list, check with us, and we will let you know if we can deliver to all your international team members.
Cooking workshops provide everything you need to build cohesion and connection within your team. And the use of modern technology makes it possible to bring your team together from anywhere in the world.
Professional chefs use video conferencing to guide and motivate teams to create delicious, beautiful meals that their families can enjoy together once the workshop is complete.
For more ideas Rockoly is always happy to help your team connect through Virtual Team Building Cooking Classes, Wine-Tastings or Virtual Happy Hours or fill out the form below to get started!