Humanity always looks for a reason to celebrate, commemorate and connect. And if we can throw food into the mix, all the better. So we practice our culinary traditions with pride and love to share in the traditions of others while teaching them about our own. And thus, our ultimate food calendar was born!
Rockoly celebrates these bonds in more ways than one. Taking the age-old tradition of celebrating life with food, Rockoly helps companies reconnect their team through a series of online team-building workshops. In addition, there is a wide range of workshop menus that sample delicious meals from around the world.
And while menus are fully customizable, a series of themes run throughout our very own food calendar.
Here, we look at the year's opportunities to eat, drink, and be merry. Some are more traditional, some a little unconventional, but there is never not a good reason to get together and celebrate our shared humanity.
Table of contents:
January
Let's see what our food calendar has to kick off the year…
Get Healthy
"abbiocco" – Italian: A fit of drowsiness that occurs after eating a large quantity of food.
The Holiday season has passed us by, and we are all experiencing the carb hangover and feeling the spirit of the festivities around our middle. However, January brings about New Year's resolutions and the promise to get ourselves back into shape.
But this is no reason to ignore the joy we get from coming together and enjoying good food. So, let's look at some of Rockoly's healthy menus and how healthy eating is enjoyed worldwide on our food calendar!
Greece
A Greek menu is the epitome of the Mediterranean Diet, rich in vegetables and healthy olive oil. These ancient farmers still live off the land, and fresh fish, locally grown olives, tomatoes, lemon, honey, and garlic are infused in several ways to create magnificent meze.
Want to be adventurous? Some Greek delicacies that a visitor might raise an eyebrow at include a nutritious sea urchin salad, fried octopus ink sack, and roasted lamb's head.
Norway
The Nordic diet is revered for focusing on wholegrains and fresh food. Sugar and processed food are limited, and Omega-3 dense fresh fish, such as salmon, are a favorite around the table.
A sought-out delicacy is Rakfisk – fermented trout in saltwater. The pungent smell is apparently quite something, but it is pretty delicious and deeply rooted in Norwegian culture if you can get past that.
Japan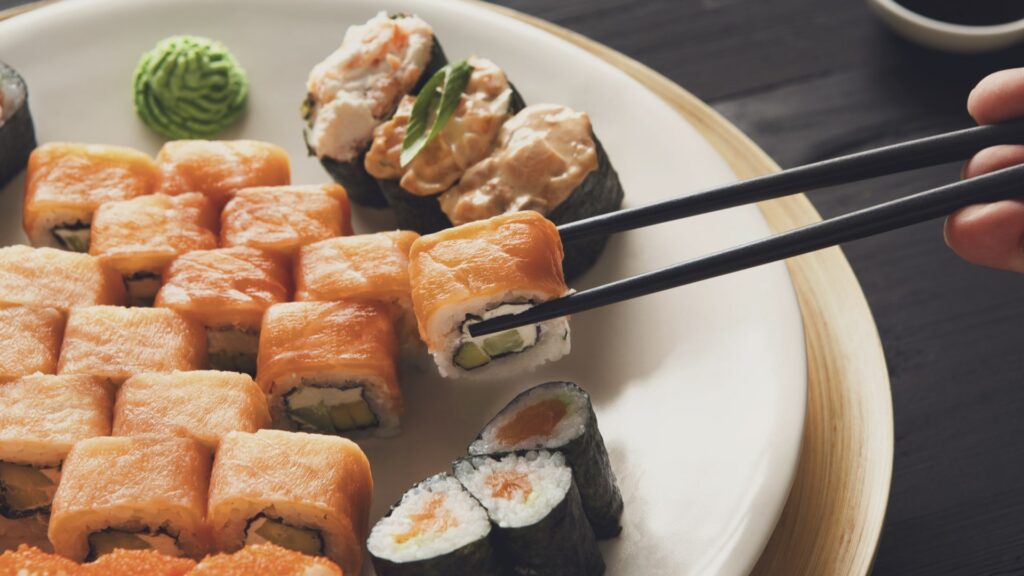 When we think of Japanese cuisine in a healthy food context, we automatically think of sushi. Still, the Japanese diet is generally abundant in healthy choices, and many options are available.
The Japanese diet focuses on whole foods that are low fat and nutrient rich. Seaweed, pickled vegetables, rice, soybeans, and fish are served in small portions.
Washoku ( 和食) consists of a bowl of rice prepared with several side dishes that highlight the flavors of ingredients rather than smothering them in dips and sauces.
Senegal
The Senegalese communally enjoy their meals – it is not often that someone will eat alone. Their diet is rich in legumes, vegetables, whole grains, and lean meats.
Dense vegetable stews with meat pack maximum nutrition per bite, and they are accompanied by couscous or rice or served with home baked bread.
Senegal has a mix of traditions that blend into fascinating cuisine. It is French-speaking and predominantly Muslim. However, its proximity to Morroco and the rest of North Africa has ensured they use a range of spices to make even the most straightforward dish remarkable.
Rockoly is behind you all the way with your New Year's healthy habits. So, select one of our delicious healthy menus for your next team-building event.
Lentil Buddha Bowl
This wholesome, hearty, and delicious bowl is stuffed with superfoods and vegetables. Topped with a creamy tahini sauce, you will have the ultimate satisfaction, knowing you have created an expertly well-rounded lunch or dinner.
Hummus and Meze Spread
Create a Middle Eastern meze spread that is good to look at as it is good to eat. Creamy hummus, crispy pita chips, and a fresh cabbage salad make a decadent nutritious snack. Add a toasted Eggplant Mutabbal and complete the occasion with a wine pairing.
Greek Souvlaki
Our food calendar often features traditional chicken souvlaki, which is prepared with seasoned vegetables and brings Greece to your kitchen. Served alongside Tzatziki sauce, this meal is the epitome of Greek flavors.
The dish is complemented with sumptuous saganaki cheese, a soft pan-fried cheese dressed in honey and walnuts, ending your Greek meal on a sweet note.
Veggie Burger
Enjoy this healthier spin on your typical burger and fries! A superfood-packed plant-based patty topped with avocado and served with roasted sweet potato fries.
Add a velvety Green Goddess sauce to put right on your burger or use as a fantastic dipping sauce!
Nutritious ingredients, delectable flavors, and healthy cooking methods ate the perfect combo that will leave you feeling satisfied while building healthy habits!
February
Grab that special someone and jump into the next installment in our food calendar!
The Month of Love
"Food is symbolic of love when words are inadequate" – Aland D. Wolfelt
It is a well-known adage that the way to the heart is through the stomach. We show love through food in many ways, not just when seeking romance.
We welcome new neighbors with baked goods, make chicken soup when our oved ones are ill, and take someone out for a celebratory meal when we want to share their successes.
The romantic, candlelit dinner for two will never die. We wine and dine potential mates and long-time loves, enjoying the ultimate bonding we experience through food.
There are thousands of myths and legends surrounding food, its aphrodisiac qualities, and romantic elements from all cultures.
It's a Rockoly food calendar classic!
Pomegranates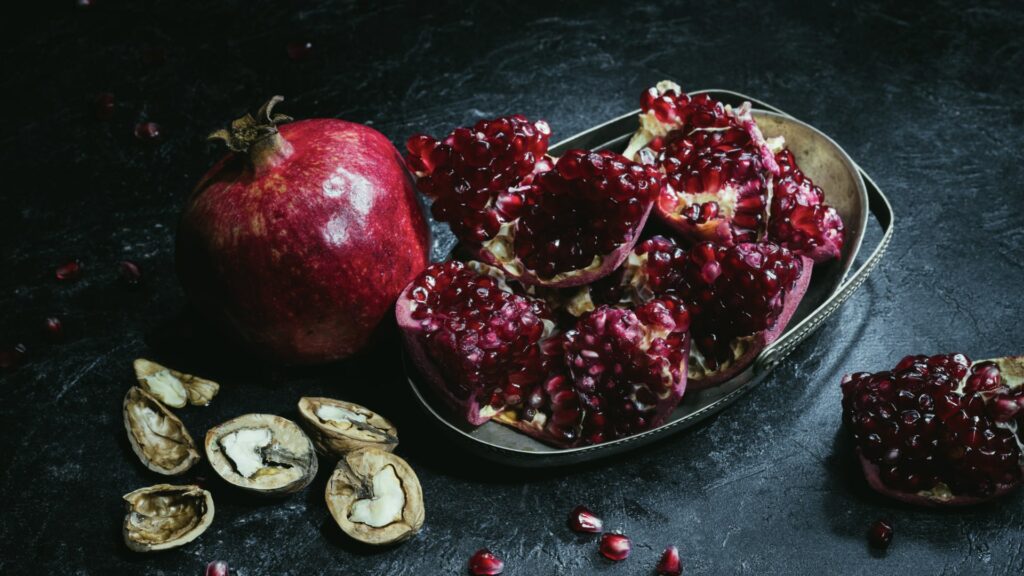 The Greeks believe that Aphrodite, the goddess of love, planted the first pomegranate tree. This decadent fruit is a natural aphrodisiac, packed with antioxidants that increase blood flow and boost testosterone levels.
Oysters
The world's best-known lover, Giacomo Casanova, apparently ate dozens of oysters a day to boost his virility. And there was method in his madness. Oysters are rich in zinc, which boosts testosterone and dopamine production in men and women.
Chili Peppers
Want to spice up your love life? While some may find them too hot to handle, the burn of a chili pepper releases endorphins, which raise the body's core temperature and quicken the pulse.
Much like the feeling you experience when falling in love, it can leave you elated. It's believed that Montezuma fed his concubines chili and chocolate to ensure that they could keep up with his escapades.
Strawberries
The Romans associated strawberries with Venus, the goddess of love. Hundreds of years later, the French served strawberries to newlyweds to bring them fertility and good luck.
These sensual snacks are often associated with Valentine's Day, dipped in chocolate and served as a romantic gesture.
And it is not in vain. They're packed with magnesium, vitamin C, potassium, and zinc, each of which contributes to the increased blood flow and hormone levels.
Looking for a romantic menu this Valentine's Day? Look no further than Rockoly's sumptuous menu selection.
Chocolate is synonymous with romance, and Rockoly's Chocolate Lava Soufflé is the perfect workshop for those with a sweet tooth. This fluffy dream of a dessert is paired with a fresh strawberry sauce, ramping up its romance score a few more notches.
What can be more romantic than food designed for sharing?
The French have romance down to a fine art. First, create an exciting Charcuterie board with a variety of meat and dairy cold cuts, fruits, nuts, crackers, and jam.
Then, add a delicious anchovy-olive tapenade and take it to the next level with a red and a white wine pairing.
The Spanish also know a thing or two about romance and indulge in sharing intimate finger foods together. Enjoy Cecina & blue cheese rolls in a sherry reduction and garlic shrimps cooked in white wine.
Paired with a fragrant, authentic wine, you will feel transported right into the heart of Barcelona, Spain. This is one of the most rich and delicious months in our expansive food calendar.
March
A world-wide favorite is featured in our annual food calendar…
St. Patrick's Day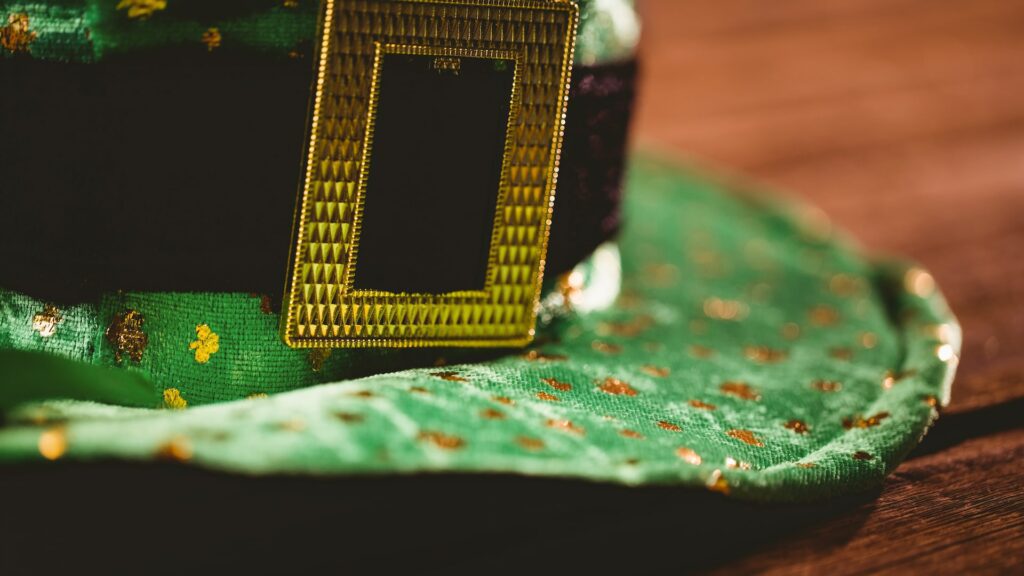 "Laughter is brightest where food is best." – Irish Proverb
The Irish are fiercely proud of their heritage and their customs have made their way across oceans.
With more Irish people living abroad than in Ireland itself, it's no wonder these traditions spread far and wide. Roughly ten percent of US citizens, half of Australia's, and a large chunk of Canada, New Zealand, and South Africa descend from Irish Ancestry.
Halloween finds its origin in Irish history, born out of an ancient Celtic festival known as Samhain – a night marking the end of summer and anticipation of the pending harvest.
St. Patricks's Day is a beautiful day of merriment that honors this tiny island in the North Atlantic and its powerful influence on culture.
St Patrick's Day was not always about beer and parades. It is still regarded as a religious holiday in Ireland, honoring their patron saint.
The merriment developed when people used it as a reason to break the restraints of Lent, and Irish immigrants brought the more jovial version of their national day to the US in the 1700s.
Saint Patrick is known for bringing Christianity to Ireland. He was a Roman Brittan and lived in the fifth century. The Irish captured him as a slave, and he became a shepherd. While living in Ireland, he spread Christianity to the Irish, and several stories exist about this unexpected hero.
The most well-told story is that he drove the snakes from Ireland. But in reality, snakes have never actually been native to the region.
Here are some St Patrick's Day staples we often carry on our food calendar. Also, keep an eye out for Rockoly's celebratory menus that bring the luck of the Irish into your home.
Soda Bread
This delicious bread is one of Ireland's most traditional. Every family has a generations-old recipe, and it's used to mop up hearty stews and fill a belly between meals. It's a remnant of the potato famine when Ireland faced severe food shortages.
It was the Native Americans who realized that soda, formed from the ashes of wood, could leaven their bread without yeast. The Irish later replicated the process in the 1830s, when baking soda was first introduced to the country.
Traditionally, the bread is cooked in a cast-iron pot or baked on a griddle over an open fire, giving the its famous hard crust and dense texture.
Colcannon
Mash potatoes with an Irish twist. Colcannon is made with potatoes, butter, milk, and cabbage. There are many regional variations of this staple dish, such as using kale or adding onions, and it is enjoyed with boiled ham, salted pork, or bacon.
Later on in our food calendar is, of course, Halloween! During this time, the Irish tradition is to hide a ring and a thimble in the dish — Whoever uncovered the prize on their plate would be blessed with luck.
Irish stew
This hearty dish is traditionally made with root veggies and mutton, although beef is also used today. There is no hard and fast recipe, much like other traditional foods, but meat, potatoes, onions, and parsley will always find their way into the pot.
A good, traditional Irish stew cooked on an open fire can also include a splash of Guinness nowadays.
April
Let's see what fun our food calendar has in store for us in April…
Earth Day
One may not automatically associate Earth Day and food festivities, but all food is a celebration of Earth Day when you think of it.
Our magnificent planet is the source of all our nourishment — and what better way to honor her than to cook up a delicious meal.
The key is being mindful of the foods you use. Make sustainable choices, keeping the delicate ecosystem in mind. It's a great exercise because, ultimately, taking care of our environment should always be front of mind.
Let's look at ways you can celebrate Earth Day in your kitchen.
A Plateful of Plants
Not only are plant-based foods great for heart health but reducing meat consumption is also hugely beneficial for the planet.
Livestock farming is heavy on the environment. Greenhouse gasses, clearing land for pasture, and the amount of water and fuel needed to produce and transport animal feed have a more significant carbon footprint than any other industry.
Choose Local
Buying locally grown produce has several benefits. You uplift the local economy, get fresher food, and limit the pollution from transporting food over great distances.
Relish in Raw Food
It's simple, really — the more heat you apply, the more energy you use. Raw food is also richer in nutrients, so your body benefits too.
'Tis the Season
Seasonal fruit and veggies are not only cheaper, but they also grow with far less human intervention and are more likely to be local. Conversely, out-of-season fruit and vegetables are often imported, impacting carbon emissions.
Rockoly has a range of delicious meat-free meals and menus to help you and your team celebrate the bounties off Mother Earth.
Flexible Frittata
This fresh and light dish will brighten your tastebuds with colorful peppers, mushrooms, tomatoes, and more. A frittata is a feel-good meal that is great for any time of the day but pairs best for brunch with a coffee tasting.
Seasonal Minestrone
There is no exact recipe for minestrone, as it is a bit of a mix and match. It usually features ripe tomatoes, beans, onions, celery, and — occasionally — pasta. Minestrone is both hearty and delicious. Extend the fun with a fluffy popover add-on and make some savory pastries to pair.
Shakshuka and Pita
Eggs poached in a spicy tomato sauce pair perfectly with a warm, fluffy pita. It's satisfying and very bite bursts with flavor — everything you could want from a brunch dish.
Crostini
Crostini is the ultimate appetizer for any holiday celebration. Crisp French baguette is smothered with mouth-watering flavor combinations such as tangy lemon ricotta and apple pomegranate with brie. Get extra festive by adding a wine pairing!
May
May's food calendar offers double celebration!
Cinco De Mayo
Cinco de Mayo — or the fifth of May — celebrates the date of the Mexican victory over France at the Battle of Puebla on May 5, 1862.
In the United States, the day is celebrated as a commemoration of Mexican culture and heritage. Observers take to the streets with parties, mariachi music, parades, traditional Mexican food, and folk dancing.
Let's look at some traditional Mexican favorites.
Tortillas
This thin flatbread is made from unleavened dough, using finely-ground corn flour, which is then pressed and baked. The name means "small cake," and the oldest record of tortillas dates to 10,000 BC!
Oh, and Maize (corn) was a staple food of the Aztecs.
Guacamole
Honestly, avocados are one of the greatest gifts the earth has provided humankind. And guacamole is just one of the ways to enjoy this unique fruit.
The Aztecs created "ahuaca-mulli" or avocado mixture, and the Spaniard's mispronunciation led to it being known as guacamole.
A good guac is made from mashed avocados, lemon juice, and seasoning and accompanies anything from nachos to enchiladas. Avocados are a superfood, rich in healthy fats and antioxidants — so it's a nutritious treat, too!
Churros
The churro is a Mexican icon that made its way to the region with the Spanish in the 1500s. The Spanish, in turn, discovered the pastry on their travels to the east. The Aztecs adopted the doughy delight, and it has been entrenched in the region's culinary culture ever since.
They say you can't swing a cat in Mexico without bumping a churro vendor.
Tequila
Tequila is a distilled spirit made from the agave plant. The Aztecs fermented a drink known as pulque, using agave sap as early as 1,000 BC and it played a role in how they worshipped their gods.
In 1758, the Cuervo family started the first commercial tequila distillery in Mexico. Much like champagne is to the Champagne region in France, authentic tequila can only be distilled in Mexico, and it is one of the highest consumed spirits in the world.
Authentic, quality tequila is made from 100% agave, ultimately creating a very natural spirit. The agave plant is steamed, and tequila is distilled in a copper pot.
Celebrate Cinco De Mayo with Rockoly's Mexican Street Tacos Class
Make tortillas from scratch and prepare delicious tacos with tender steak, fresh guacamole, and zesty corn salsa. Each bite is so flavorful, one taco isn't nearly enough. Vegetarians and vegans will love their garlic mushrooms.
It's a hit among remote teams!
Mother's day
One often associates cooking and the kitchen with Mom. And it's usually because it is where she created wonderful meals for your family. So, Mother's Day is the perfect opportunity to return the favor and produce a magnificent feast for Mom.
The role of Mother is revered in all countries and cultures and has been since the beginning of civilization. Mothering is a universal bond that transcends species and it has ensured that the human race marches on.
The Ancient Greeks commemorated motherhood during their spring festival, where the goddess Rhea — Mother of the Gods — was celebrated.
The ancient Chinese offered gifts to the Queen Mother of the West, the most powerful goddess in Chinese culture.
The Romans revered Cybele, the Great Mother. Even today, Catholics pray to Mother Mary and Hindus worship Durga, the mother goddess.
In 1905, activist Anna Jarvis advocated for creating an official Mother's Day. By the 1920s, Mother's Day was celebrated around the world.
Celebrate Mother's Day with Rockoly's fabulous workshop menus, and make Mom something special, perfect for breakfast in bed or a family brunch.
French Toast
Add a twist to this sweet cinnamon classic by creating an almond crust for an enticing crunch. Topped with fresh strawberries and maple syrup, this dish is a perfect Mother's Day treat.
Eggs Benedict
Another classic, perfect for breakfast or brunch, Eggs Benedict, consists of a toasted English muffin topped with Canadian Bacon, a perfectly poached egg, and creamy hollandaise sauce.
Dutch Baby Pancake
Also known as a Dutch puff, Hootenanny, or a Bismark, the Dutch baby pancake is a large, thick pancake baked in the oven or cooked on the stovetop in a large skillet.
Soft in the middle yet crisp around the edges, this dish takes your typical pancake up a notch. It is drizzled with a smooth orange sauce that is tangy and sweet.
June
June's food calendar is packed with pride.
Pride month
In June, we celebrate the LGBTQ+ community and raise awareness around equality, inclusivity, and self-identity.
The tradition began in 1970, a year after the Stonewall Uprising, but was initially celebrated as 'Gay Pride Day.' As time progressed, it shifted to encompass the diversity that epitomizes the LGBTQ+ community.
As a result, the symbolic rainbow has become synonymous with the movement, and there are numerous ways you can celebrate Pride Month and show support through the magic of food.
Rainbow Tart
Rockoly's rainbow fruit tart is a colorful treat, packed with fresh fruit and a sweet filling, all in a homemade pastry. The artfully arranged fruit topped with a jelly glaze is aesthetically pleasing and delicious.
Rainbow Cake
A decadent, festive six-layer rainbow cake is the perfect celebratory food that packs a positive message. Then, go one step further and create rainbow icing to make your mark.
Rainbow Veggie Salad
It doesn't have to all be about cake. There are healthy options too. For example, what about a bright veggie salad using colorful bell peppers, tomatoes, carrots, red onions, and cucumber to maximize the color variation.
Rainbow Cocktail
A fruity rainbow cocktail will put you in a festive mood. Refreshing and perfect for Pride Month, pour layers of grenadine, pineapple juice, orange juice, and blue curacao. Serve with ice and an umbrella, and you are good to go.
Father's Day
In 1910, Sonora Smart Dodd had the idea to celebrate her father during a Mother's Day sermon at church. She felt fathers were equally deserving of a particular day, as her father had raised her and her five siblings on his own after her mother passed away.
Father's Day was celebrated in a few nearby communities. However, it was only officially recognized in 1924.
Lyndon B. Johnson designated the third Sunday in June as Father's Day in 1966.
Other countries followed suit, and Father's Day is now celebrated worldwide.
This Father's Day, forget socks, handkerchiefs, and a 'World's Best Dad' mug. Instead, have your team whip up a meal worthy of fatherly pride with Rockoly! Here's some of our staples…
Paella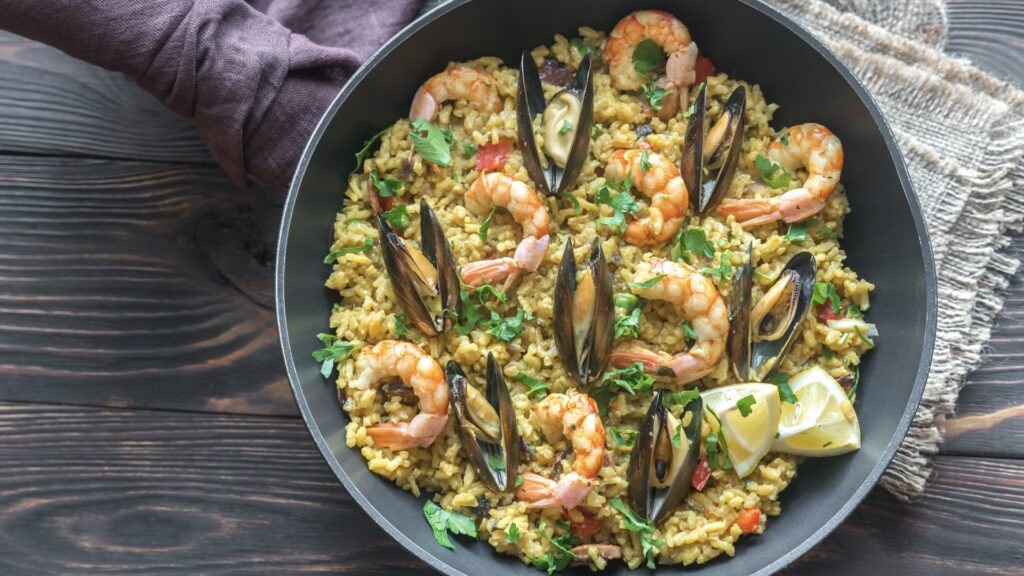 Chicken and shrimp paella is bursting with bold aromas and diverse textures. Paired with authentic sangria, it's the perfect treat to make Dad feel like a king.
Pizza
Who doesn't love pizza? So, create the ultimate crust and top it with delicious mushrooms and cheese – or feel free to raid the fridge and be creative.
Nothing is off-limits, from the classic cheese pizza to brie cheese, banana, and BBQ chicken.
How About Celebrating Dads with a Mixology Workshop?
Mixology is a term used in cocktail culture. It is the art of mixing the perfect combination of spirits and flavors to create bespoke mixed drinks to suit every taste.
A mixologist studies the history of spirits and drink mixing and is a connoisseur of specialized ingredients and garnishes.
Rockoly's experienced mixologists have 25 years of experience between them. Their cocktails are based on traditional spirits crafted into delicious, refreshing aperitifs. Remote teams feature many fathers — celebrate them with Rockoly!
July
"America is a tune. It must be sung together."— Gerald Stanley Lee
Fourth of July
Americans are well-known for their fierce patriotism and national pride — and no other holiday sums this up as well as the Fourth of July.
And what do Americans do to celebrate their Independence Day besides lighting up the sky? The same thing the rest of the world does when celebrating – they eat! So it makes sense that our food calendar includes some of our favorite Fourth of July traditional fare. 
The United States is a country founded on the grit and determination of pioneers and immigrants — a true cultural melting-pot — so it is no surprise that much of the food traditions originated from elsewhere.
So, where did they come from?
Hamburgers
Ever wondered why hamburgers don't contain any ham? It's because they are named for their origin, Hamburg, in Germany. The Mongols were the first to eat minced meat, and they liked it rare – well, raw. They then introduced it to the Russians. Tartar is the Russian word for Mongol – hence the term steak tartar.
As trade expanded over the Baltic Sea, minced meat found its way to Hamburg, which was notorious for its exquisite cattle and beef.
So, the Germans began to fry up their mincemeat, stuff it into sausage casings, or flatten it. This became known as the "Hamburg steak," which found its way to the U.S. in the 18th century when the Hamburg-America line brought boatloads of immigrants to the New World.
Hot Diggity Dogs
A Fourth of July barbeque is not the same without hot dogs. In fact, July has officially been named National Hot Dog Month. Approximately 150 million hot dogs are eaten every July 4th.
Sausages have been around for centuries. They are even mentioned in Homer's Odyssey. The beloved hot dog sausage that Americans are most familiar with is a variation of the German frankfurter that was brought to the States by German immigrants. Any guesses as to where in Germany they originated? Yup – Frankfurt. And the wiener? Vienna – or 'Wein' in Austria.
Finger Licken' Fried Chicken
De re culinarian, one of the earliest cookbooks in history written, compiled in around 1 C.E, has a recipe for fried chicken. It took a while to catch on, and the Scots are thought to be the first Europeans to fry their food. They took the cooking method with them when they made their lives in North America.
West Africans have been battering, seasoning, and frying chicken for generations.
The combination of the Scottish cooking method and the seasoning methods introduced by the enslaved Africans and African Americans gave birth to "Southern Fried Chicken."
Corn On the Cob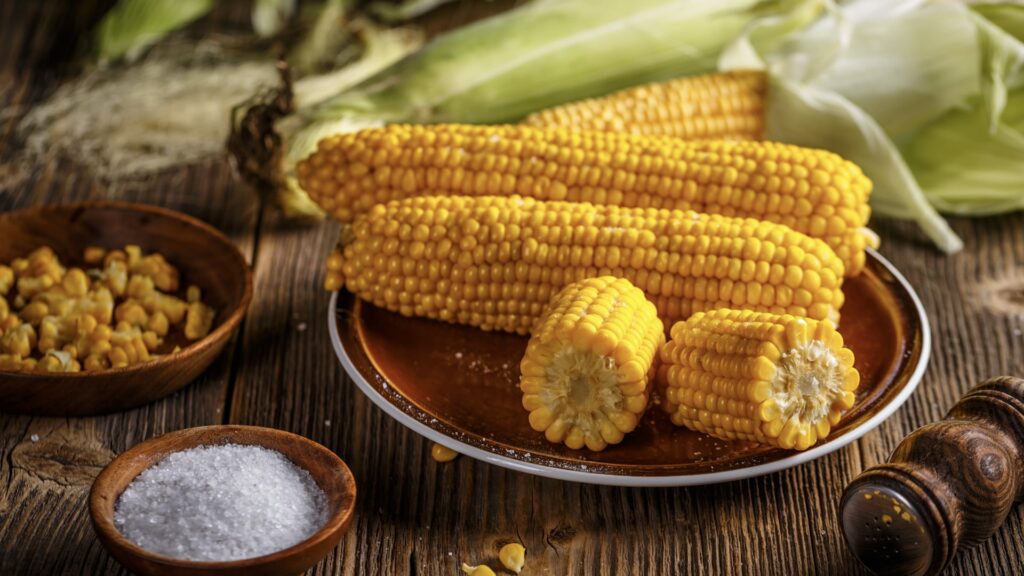 This American favorite epitomizes the heart of the Midwest. Cornfields grow for miles and miles, and it is one of the only global staples entirely indigenous to North America. Corn was first raised in what is now Mexico by the Olmecs.
Columbus brought the grain back to Europe, and its popularity took off there too.
Deviled Eggs
Deviled eggs, aka stuffed eggs, are hard-boiled eggs shelled and cut in half. The cooked yolk is removed and used to create a paste. Seasoned boiled eggs were enjoyed as far back as ancient Rome.
The concept of creating a paste from mashed yolks spread through Europe in the Middle Ages. They were initially very hot and spicy, so they were given the adjective 'deviled.' Deviled Eggs only made their way into U.S cookbooks as late as the 19th century.
S'mores
This July 4th staple evolved from a girl scout recipe known as 'some mores.' First mentioned in a guide called 'Tramping and Trailing with Girl Scouts' in 1927, they are based on a Victorian cream-filled cookie sandwich. These delicious treats are now a cultural icon enjoyed around campfires and barbeque grills around the U.S.
August
Arbejdsglæde – Danish – Pronounced [ah-bites-gleh-the]
'Job joy,' or 'happiness at work.' It's the heightened sense of happiness, fulfilment, and satisfaction you get from having a great job
International Co-worker's Day
Rockoly is proud to call every day International Co-workers Day, focusing on culminating bonds between teams and co-workers through online cooking workshops. This is why our food calendar isn't complete without this particular day.
International Coworking Day is celebrated on August 9, and it has taken on new meaning in the last two years, as we have faced immense challenges in the workplace. However, unity is bred through adversity, and the value of great co-workers has gained exponential value.
The movement doesn't only focus on co-working teams and colleagues within the same company, but more on the collaboration between companies and workspaces. Another thing that has gone to the next level as we see hotdesking and hybrid working trends.
The movement was started by Brad Neuberg in 2005, who came up with the idea and published it in his blog, 'Coding in Paradise.'
So how can you celebrate International Co-worker's Day? Support each other. Stop at the local bakery on the way to work and buy up all their donuts, fill the office with flowers from the local florist, or join forces with other businesses in your area for a fun team-building exercise.
Invite co-workers from around the world and connect with the age-old tradition of Happy Hour. Happy Hour can continue to thrive in a remote world. Rockoly hosts a Virtual Happy Hour — complete with mixology workshops and cocktail creations, with the ingredients delivered upfront.
There is quite the variety of menu options. Menus include mouth-watering street food, gourmet dishes, and sweet treats that are fully customizable and adapted to suit all dietary requirements.
The most popular menus create some Italian staples and Mexican favorites — but you can choose from a wide range, from healthy comfort food to tapas menus to appetizers.
Creating delicious meals together is one of the ultimate bonding experiences.
Rockoly has a variety of themed menus, providing a richer and more authentic cultural experience. In addition, a selection of specially trained, expertly equipped chefs will guide participants to create their culinary delights.
Rockoly's wine-tasting courses are presented by an expert sommelier, a class which also can feature can combine cooking and wine-tasting workshops to create a unique wine pairing experience.
September
Sobremesa – Spanish
Sobremesa means 'over the table,' which is a Spanish expression that describes that extraordinary period after the meal is finished. Still, you sit at the table chatting and enjoying each other's company.
Hispanic Heritage Month
In September, our food calendar observes National Hispanic Heritage Month, celebrated from September 15 to October 15. It celebrates the histories, contributions, and cultures of American citizens who descend from Spain, Mexico, the Caribbean, and Central and South America.
It started in 1968 when President Lyndon Johnson declared Hispanic Heritage Week, and President Ronald Reagan expanded it to cover 30 days in 1988.
September 15 is the anniversary of independence for Latin American countries El Salvador, Honduras, Costa Rica, Guatemala, and Nicaragua. In addition, Chile and Mexico celebrate their independence on September 18 and September 16, respectively.
Latino foods are a magnificent mix of flavors and foods that resulted from the meeting of cultures through the centuries.
From Spanish settlers and missionaries sharing food and recipes with native Americans to the arrival of Chinese-Cuban and Afro-Caribbean migrants who contributed Latino influences to Harlem's "soul food" in the 1920s, Hispanic food is deeply entrenched in American food culture.
Hispanic food is full of variety and flavor, rich in ingredients such as avocados, beans, cheeses, chipotle peppers, garlic, rice, and tomatoes.
Corn and flour tortillas wrap ingredients and create delicious enchiladas, tacos, fajitas, and many delicious Hispanic delights.
Food equals a time of togetherness, where families and neighbors enjoy large meals made from recipes that have been handed down for generations.
Celebrate Hispanic Heritage month with Rockoly. Our delicious tortillas are prepared from scratch and stuffed with mouth-watering steak, fresh guacamole, and zesty corn salsa. The menu is customizable, and vegan/vegetarian options are available
Or create delicious cheese and corn empanadas, a gooey, cheesy corn filling wrapped in a crisp, crusty pastry. Empanadas are served with a spicy sesame chili oil, creating a delectable handheld dish. Pair with a refreshing cocktail or some creamy horchata to heighten your experience.
Spanish signature snacks, known as tapas, are bites size delights served on small plates and the best way to combat food envy. They are great for sharing, and you can have a bit of everything. Tapas ranges from simple dips and homemade bread to slow-cooked meat and seafood.
October
Halloween 
When you take to the streets 'Trick or Treating?' take a moment to remember that today's commercialized candy fiesta is rooted in an ancient Celtic festival.
Hallowe'en originated in Scotland's pre-Christian culture. Clans would celebrate Samhain – marking the end of summer and coming winter.
Samhain also celebrated the final harvest and was an opportunity for revelry and making offerings to the gods so that they would protect their cattle in the winter.
It was believed that witches and warlocks were out, causing trouble as the souls of their dead ancestors roamed the earth. An empty place setting was left in case the spirit of a relative joined them.
Halloween was a night of mischief, and playing pranks is a tradition that goes back to the 1700s.
Hallowe'en cake was a traditional treat, with three trinkets hidden inside: a ring, a coin, and a button. It was believed that the ring's finder would soon be married, the one who uncovered the coin would be rich, and the unlucky soul who discovered the button would remain unmarried for the rest of their life.
When Christianity rose to prominence, it didn't stand in the way of Samhain traditions. November 1 was named All Saints Day, and October All Hallow's Eve.
The door-to-door tradition of collecting food for Samhain feasts and fuel for bonfires has evolved into today's custom of trick or treating.
As for the crazy costumes, Scottish children would disguise themselves and pretend to be malevolent spirits. They believed the disguise would ensure they blended in with wandering souls, keeping them safe.
Traditional Halloween delights include variety of sweet and delicious treats. Besides the usual buckets of candy, caramel corn, and pretzels, some traditional favorites have an interesting history.
Pumpkin pies and pumpkin bread became a part of the traditional food list because something had to be done with all the pulp scraped out of pumpkin shells to create Jack-O-Lanterns. A lit lantern was used to ward off spirits.
Apple bobbing was a Samhain game, so abundant leftover apples were always lying around. Thanks to this, candy apples and apple bread are firm favorites at Halloween.
Italian American Heritage month
Italian American Heritage Month recognizes the achievements and contributions of Italian Americans. Over 26 million Americans of Italian descent currently reside in the U.S. — making up the 7th largest ethnic group.
An awesome addition to our food calendar, best way to celebrate Italian heritage is by indulging in the incredible food that is proudly served at Italian tables. What would our lives be without pizza and pasta?
Italians have made a massive impact on American history, including giving it its name. Amerigo Vespucci was an Italian explorer who landed along the coast of the U.S. during his voyage of discovery.
Italian explorer ​Christopher Columbus landed in the Caribbean during his journey, looking for a quick route to the East. When he arrived, he thought he was in India. This is why Native Americans were referred to as Indians at the time, and the cluster of Islands was referred to as the West Indies.
Giovanni da Verrazzano was an Italian explorer and the first European to create a map of the U.S. East Coast.
Filippo Mazzei, a physician and promoter of liberty, inspired the wording of the declaration of independence. He was good buddies with Thomas Jefferson and published a pamphlet containing "All men are by nature equally free and independent."
Oktoberfest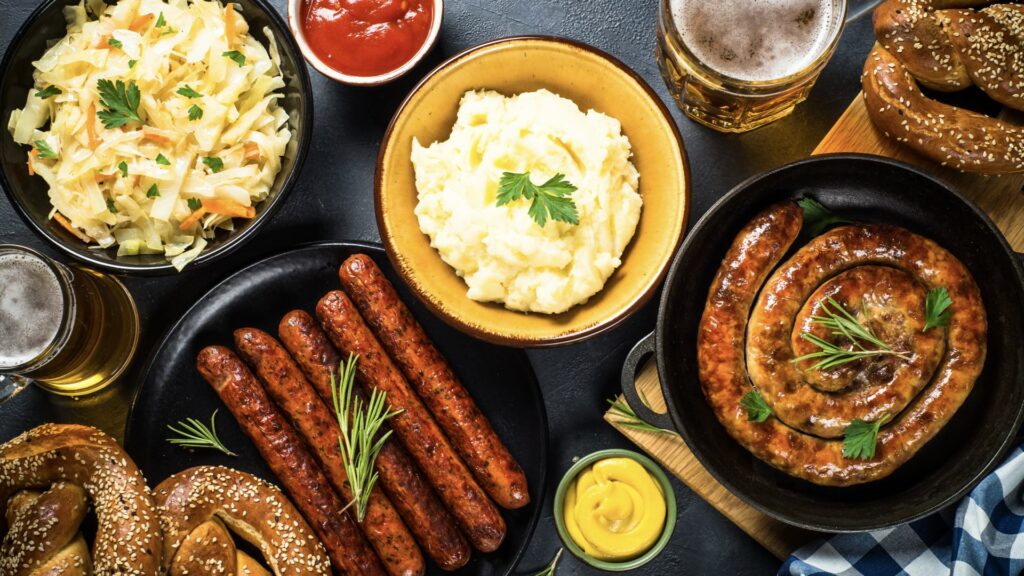 Munich's annual Oktoberfest is held over two weeks and started on October 12, 1810. It was to commemorate and celebrate the marriage of King Louis I (who was crown Prince of Bavaria at the time) to Princess Therese von Sachsen-Hildburghausen.
The festival lasted five days and ended with a horse race that was eventually combined with a state agricultural fair.
By 1818, food and drink stalls were introduced, which became more elaborate as time passed. Beer halls, music stalls, and entertainment became the basis for one of the biggest festivals in the world.
Today, the Oktoberfest has multiple beer halls with a seating capacity for roughly 6,000 people each. The mayor taps the first keg of the festival in the opening ceremony. About 2 million gallons of beer are consumed each year, and parades feature oompah bands and folk costumes.
More than six million people, primarily tourists, visit the festival each year.
How can you celebrate the Oktoberfest at home? By indulging in the phenomenal traditional food Germany has been kind enough to bring to the table.
Throw the perfect Oktoberfest party with themed decorations, an abundance of German beer, and delicious food.
Laugenbrezeln (or simply brezen) are giant pretzels with a soft inside and crispy crust. The salty delight is served with butter and pairs perfectly when washed down with a good beer.
Kartoffelpuffer, are a classic German treat. These delicious, crispy potato pancakes are served with applesauce and sour cream.
Bratwursts are the ultimate sausage—plump packages of delicious meat that make the perfect crackle sound as you bite into the firm casing. Serve with traditional sauerkraut and whole-grain mustard.
My personal favorite, Eisbein, is a slow-cooked, soft pork knuckle with a magnificent crispy crackling. The name – which translates to 'ice leg' – comes from the medieval tradition of using pork knucklebones as ice skates. Serve with mustard and sauerkraut for the most authentic experience.
November
Thanksgiving
Hag Hahodaya – Hebrew
Thanks for the Turkey
What would a food calendar be without Thanksgiving?
Thanksgiving goes back to when the English Pilgrims encountered the Native Americans, who welcomed them with a bountiful harvest. They held a three-day celebration in Plymouth Colony, which is now a part of Massachusetts, in 1621.
This is known as the first American Thanksgiving. The pilgrims were puritans who came to America seeking religious freedom, although today's Thanksgiving celebrations now center on cooking delicious traditional food and sharing beautiful meals with loved ones.
Turkey is a Thanksgiving staple, synonymous with the holiday. Today, 90 percent of Americans feast on turkey meat as part of the celebration. Mashed potatoes, candied yams, cranberry sauce, and pumpkin pie also have a firm place on the table.
Macy's Thanksgiving Day parade has been a tradition since 1924 and attracts about two and a half million spectators and enormous viewership online and on television.
Each year, the president of the United States pardons a turkey or two, sparing them from slaughter and returning them to the farm for retirement.
Check out our blogs for ideas on making the most of your Thanksgiving leftovers and some fantastic pumpkin recipes that you can use to create Thanksgiving delights.
December
Winter Holidays
Gezelligheid –Dutch ( ghe-zel-legh-hate)
The idea of being in a comfortable, cozy atmosphere with loved ones, catching up with an old friend, or just the general togetherness that gives people a warm feeling.
A vast majority of Americans celebrate Christmas, but it is not the only celebration held during the December period. There are many opportunities to mark of a day on your food calendar. Las Posadas, Hanukkah, and Kwanzaa are widely celebrated too.
Americans of Mexican descent celebrate a tradition called Las Posadas, which celebrates Mary and Joseph's journey from Nazareth to Bethlehem. The week-long celebration mimics the story of the parents of Jesus traveling a great distance before seeking shelter in a stable.
Hanukkah, the eight-day Jewish" festival of lights", falls at the same time as Christmas this year, but this is not always the case. The Jewish calendar is different from the traditional calendar, and the dates are set according to that.
"Hanukkah" means "dedication" and celebrates an event in the second century BCE when a small band of Jews defeated the Syrian-Greek army who at the time ruled the Holy Land. They only had a day's worth of oil left for their lamps, yet it miraculously lasted eight days. As a result, the Temple was reclaimed and rededicated to God.
Kwanza is a lesser-known celebration on our food calendar and is primarily a part of African-American culture. The seven-day celebration began around 50 years ago and with the aim of reconnecting people with their roots.
Dr. Maulana Karenga created the observance of Kwanza on December 26, 1966. Its purpose was to embrace black culture and heritage, and the celebrations are based on harvest traditions held in Africa. 
Christmas is traditionally a Christian holiday, but it has become more secular and is celebrated worldwide by people of various religions.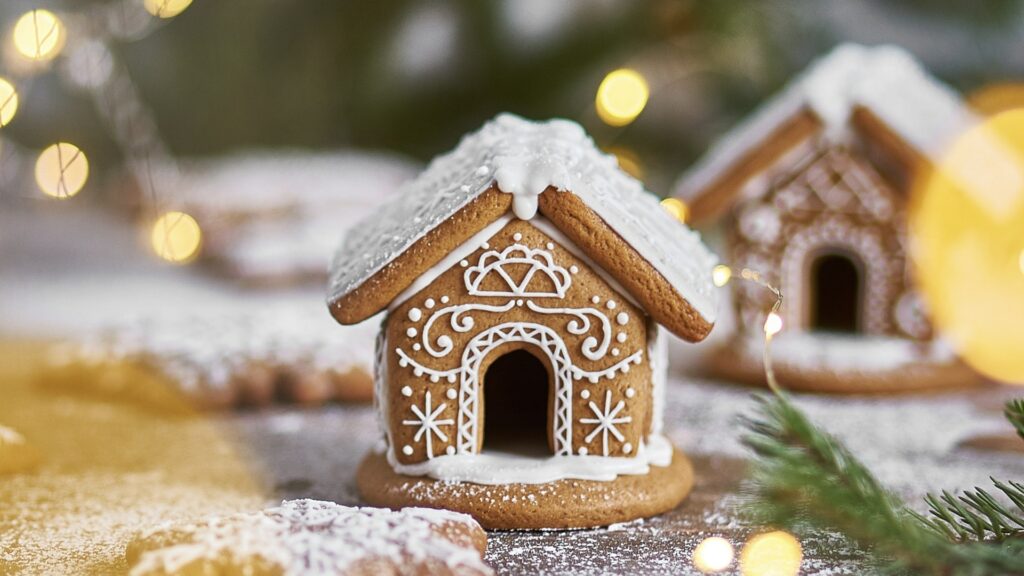 From a religious perspective, it celebrates the birth of Jesus Christ. Still, many non-religious rituals, and those based in religion but not the focus, have become traditional throughout the world.
Gingerbread house decorating, Christmas trees, carol singing, and the myth of Santa Clause make the Christmas spirit palpable worldwide.
While pop culture focuses on Christmas as a winter holiday, with images of snowfall, songs about sleigh bells in the snow, and a fire burning in the hearth, it is not the case for everyone.
Coming from the southern hemisphere, my Christmas experiences are synonymous with frolicking in the swimming pool to escape the summer heat, cold watermelons, and barbecue. The traditions of Christmas trees, carols, and Santa still stand, and it is one of the most loved and observed traditions on the food calendar.
A Food Calendar For The Ages!
Thanks for checking out our ultimate food calendar! Rockoly will create a kitchen-based celebration every month of the year.
Keep following us for more updates on this food calendar — or visit our Workshops page to see our live specials!
Bring your team together with a fun and interactive cooking class. Your team-building event is customizable and hassle-free — we deliver all the ingredients to your team!
A professional chef will guide your online team-building workshop through video conferencing, helping everyone create exciting meals together. In addition, Rockley's culinary calendar events encourage connection, boost morale, and foster socialization.