As we come to the end of the second year of the COVID pandemic, we are starting to see its long-term impact on business. It's been tough, and we have all had to redefine our norm. As a result, businesses have reconsidered the nature of their company culture and how they boost employee morale.
On a positive note, one thing we have seen emerge is the focus on mental health and employee wellness.
Remote working blurred the lines of the work-life balance and staff took strain, fearing illness, coping with sick loved ones, and dealing with the financial impact that came with the pandemic. Employers realized they had to take a step back, as people under extreme stress cannot be productive.
Leadership has evolved and become more people-centric. As a result, staff buy-in is valued more than ever before, and newfound flexibility is steering the approach away from the traditional rat race.
But what about keeping a positive team dynamic? It's challenging when we no longer have the face-time that we are used to when implementing teamwork and team-building. Virtual corporate events don't offer the same opportunity to mingle and network and there is a sense of distance when staff collaborate on projects.
Keeping the Team Alive
"Interdependence is and ought to be as much the ideal of man as self-sufficiency. Man is a social being." – Mahatma Gandhi
With many companies opting to remain remote or phasing-in a hybrid system, the concept of team-building must be reinvented.
Employees need to feel seen, even if they are not physically present, and they also need to know that their safety is a priority. Before they can even begin to consider team-building strategies, employers need to have the following things in place:
Staff that is working remotely must have access to everything needed to perform at their best. A COVID- friendly contingency plan must be made in case of internet or power issues (nature has a tendency toward hostility every now and again, doesn't it?).
Training methods need to be redefined to ensure equal opportunity for remote workers. When it comes to upskilling, working on-site should not be more advantageous than working remotely.
Opportunities must be afforded for staff to be recognized openly and praised for their achievements. Human beings thrive on praise, and it's easy to forget about the team at home.
Employers need to provide ongoing opportunities for virtual meetings and remote team-building. Creating a sense of connection is possible, but it takes conscious effort.
Employees should always feel that they have access to management. This way, they feel seen and heard. It also fosters a sense of support and stability.
Virtual Corporate Events
Human beings were not designed to survive in isolation.
We are social creatures, and even the most introverted of us still need human connection. And we are not robots, built to keep the cogs turning in the machine. Remote working can make us feel that way when we're putting in the work, but not attaining that innate sense of being part of something bigger.
A sense of belonging is created when we join to meet a common goal, and this can easily be lost when we don't interact physically.
Additionally, Zoom fatigue has made us resistant to virtual engagement, so this can make team-building seem like a chore. Instead, employers need to find innovative ways to host virtual corporate events and team-building exercises so that employees feel energized and motivated to participate.
Here's the key: For virtual team-building to succeed, employees need to feel separated from work.
The focus should be on fun — letting people relax and wear their social hats. This is how human beings bond. We learn more from each other in these settings than during the formal workday and are more willing to share pieces of ourselves that are a part of our core personalities.
When having fun in a structured way, we can pinpoint each other's strengths. We recognize who has natural leadership skills, who the problem solvers are, who the planners and strategists are, and how we can combine these skills to collaborate as a powerful team.
This intimate knowledge and experience will naturally carry over into the business space. The data shows exactly that.
Employees feel more motivated when they are a part of a team, especially if they feel that their team members genuinely know them and understand what makes them tick. We also tend to reveal more about our personal lives in a social setting, nurturing empathy and understanding between staff.
Additionally, employers get to know their team on a deeper level, recognizing them as human beings they are.
One of the enormous benefits of virtual corporate events and remote team-building is that everyone can be included, regardless of location. As a result, national and global companies can integrate their staff and team dynamics in ways that were never even considered before the pandemic.
So, how can it be done?
There are a lot of suggestions out there.
Some are innovative and will be met with enthusiasm, while many remain cringeworthy, failing to move with the times. You need to know your staff well enough to choose a team-building event that will succeed.
And food — the ultimate link for all of humankind — does that best.
Sure, we all must eat, but most of us also love to eat. Reality TV is flooded with cooking shows, whether learning from a celebrity chef or everyday people competing in bake-offs, cook-offs, and culinary challenges. Our social media is flooded with videos demonstrating delicious meals to try at home. Even the most reluctant cooks have ventured out of their comfort zone, keeping creative during lockdowns and isolation periods.
Rockoly is a leader in offering virtual team-building events and workshops that bring together the social connections we foster over food. These team-building events and workshops are designed to meet various budgets, tastes, and dietary requirements. Here are some of the experiences offered from Rockoly: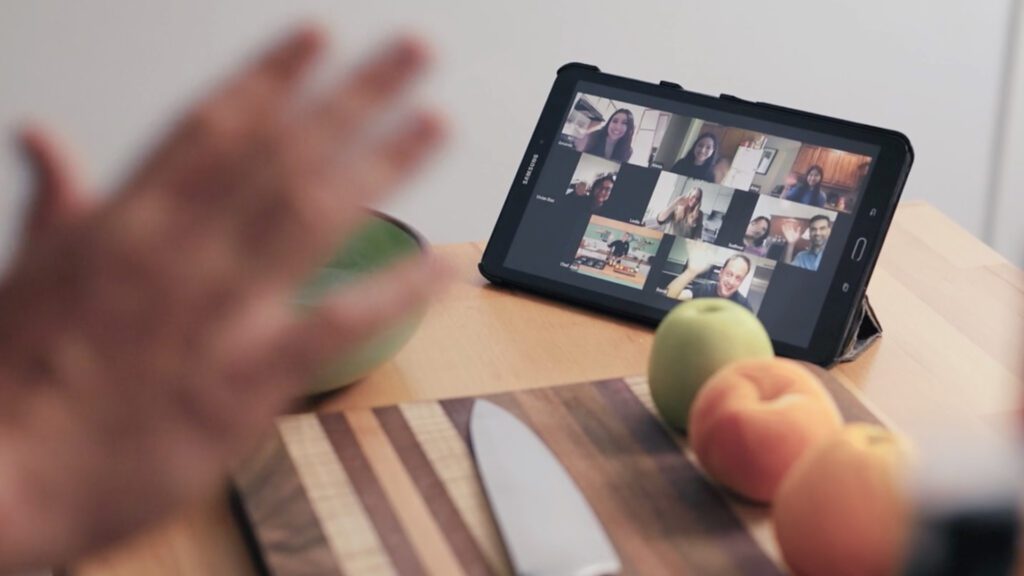 Online Cooking Workshops
There is quite the variety of menu options. Menus include mouth-watering street food, gourmet dishes, and sweet treats that are fully customizable and adapted to suit all dietary requirements. The most popular menus create some Italian staples and Mexican favorites — but you can choose from a wide range, from healthy comfort food to tapas menus to appetizers.
Themed menus
These are created to suit holidays and festivals throughout the year, providing a richer and more authentic cultural experience. Additionally, there is also a large swath of menus dedicated specifically to cuisines around the world.
Classically-trained chefs
Rockoly has a selection of specially trained, expertly equipped chefs who guide participants to create their culinary delights.
And more!
For something different, try one of Rockoly's wine-tasting courses, presented by an expert sommelier. Rockoly can combine cooking and wine-tasting workshops to create a unique wine pairing experience.
Or fancy yourself a mixologist? Happy Hour is a collaborative workshop that will teach your team to become experts in the art of cocktail making.
Rockoly caters to any individuals who are on a gluten-free, vegan, and vegetarian diets.
Although they may seem complicated on the outset, these delicious and awe-inspiring menus are easy to create. Even the most reluctant cooks will feel that they are in safe waters, especially alongside their fellow team-members. They'll have no problem whipping up the meals up in their kitchens and enjoying them with everyone else on the call.
Online Team-Building Done Right
Rockoly workshops are super convenient and have all the bases covered for companies, executives, and managers.
For example, there is no need to head to the supermarket for groceries, as all the ingredients are sourced and delivered upfront. This ensures that all the participants have everything they need to fix a great meal alongside their team and chef.
The workshops are designed to connect people, even if they are spread out all across the world. Rockoly delivers throughout Australia, the UK, Canada, Sweden, Ireland, Germany, South Africa, Mexico, India, Philippines, and more. Flexible scheduling allows you to decide what fits in with you and your calendar.
Additionally, workshops are available on several meeting platforms and can easily accommodate up to 300 participants, although a deeper level of connection occurs in more intimate settings. Some companies will have small workshop events and then combine to larger ones — the options are almost limitless on how these activities can be utilized.
Lastly, what if you would like to add a competitive spin?
Consider a few smaller groups creating different menus. Then, turn it into a challenge by creating a cook-off, where winners from each group can compete in a grand finale. It's always fun to identify your competitive employees in a less formal setting. You may be surprised!
Ultimately, virtual corporate events and team-building are here to stay. With shifts in the team dynamic settling down and showing their true colors, employers need to remain on their toes, looking for fun and innovative ways to motivate staff and build a positive company culture.
Rockoly's fun, interactive online cooking classes and workshops encourage connection, foster socialization, and boost morale. All while having fun and enjoying scrumptious food.
Successful team-building in a remote world is more than possible. It is a new way of life.
Click here to get started with a customizable Rockoly event for your team!