Zero To Hero In The Kitchen
Rockoly provides world-class cooking courses for anyone who wants to hone their culinary skills. Bring along your team, family, or friends for an amazing journey and experience Virtual Team Building Cooking!
Led by a live, certified chef instructor

Bring up to 20 people to your class

One new class each month

Choose from 6 or 12 month subscription plan
GET STARTED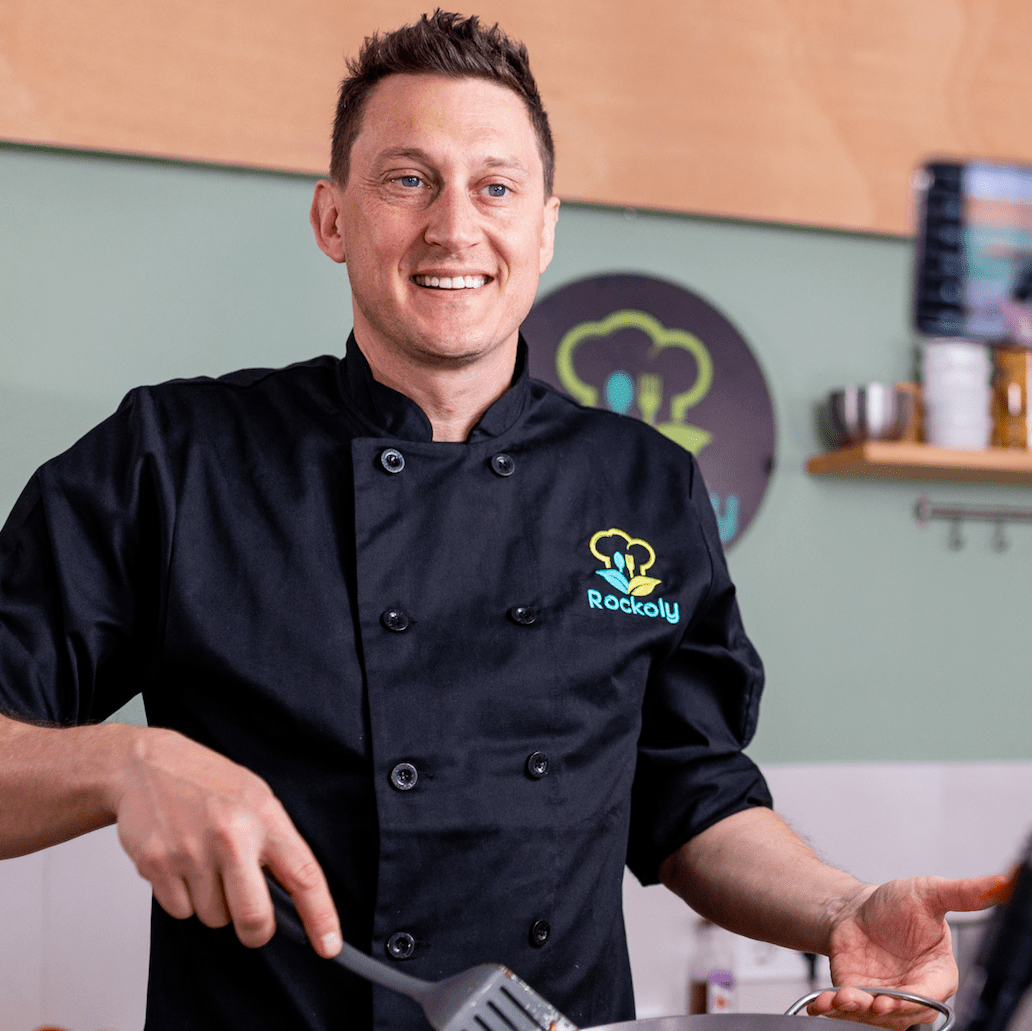 Whether you're new to cooking or need a refresher, there's no better place to start than with Rockoly's Virtual Team Building Cooking Series. 
Whether it's for team-building, family gatherings, company events, or social functions, our classes can host up to 20 people!
No matter where you and your team are in the world, you can tune from anywhere to learn from a master chef. There's nothing quite like it!
SIX MONTHS
This is a great beginner course for those looking for the fundamentals of Virtual Team Building Cooking. Scroll through to see what you and your crew will learn!
GET STARTED
Month One
Knife Skills
Learn knife techniques such as Dice, Julienne, Mince, Paste, and Chiffonade.
Month Two
Eggs
The science of cooking an egg from whole to yolks and whites to foams.
Month Three
Soups & Salads
Learn about a variety of soups, greens, and dressings.
Month Four
Veggies, Grains, Beans
Don't forget the importance of your accompaniments!
Month Five
Dry Heat Cooking
See the difference between heat sources through roasting, grilling, and sautéing.
Month Six
Moist Heat Cooking
Learn the braising, stewing, and poaching methods.
TWELVE MONTHS
Get everything in the Starter Cooking Series, plus six more amazing classes. Perfect for groups who want to dig deeper!
GET STARTED
Month Seven
Master Sauces
Nothing elevates good home cooking like a masterful sauce!
Month Eight
Poultry
Learn how to cut the whole chicken into workable parts and make a great meal from it.
Month Nine
Meat
Learn how to properly prepare and trim different cuts of beef, pork, and lamb.
Month Ten
Fish & Shellfish
The techniques of preparing fin fish, shellfish, and crustaceans.
Month Eleven
Pasta
We will be making the amazing pasta "fresca" from scratch.
Month Twelve
Company's Coming!
You are now ready to flaunt your culinary skills as a certified Rockoly Home Chef!